From our sponsors: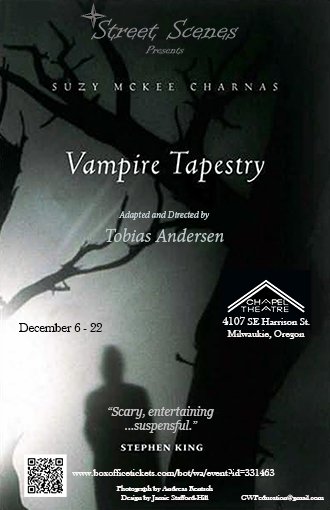 Vampire Tapestry
+Street Scenes
December 6-9, 13-14, 16, 20-22, 2018
$20 | 7:30 p.m. (5 p.m. Sundays)
Adult Content, Not Recommended for Children
More info: boxofficetickets.com
The Chapel Theatre
4107 SE Harrison Street, Milwaukie, OR United States
+Street Scenes presents Vampire Tapestry by Suzy McKee Charnas. It will open at the new Chapel Theatre in Milwaukie on December 6th and it will run through December 22nd.
Stephen King called it "Scary, entertaining, suspenseful"
Focusing on the Nebula Award winning novella Unicorn Tapestry, it is the story of a psychotherapist, Dr. Floria Landauer, and her troubling relationship with her patient, Dr. Edward Lewis Weyland. At a time when bipolar disorder was referred to as manic depression and PTSD was referred to as battle fatigue, she tries to determine why he suffers from the delusion that he is a vampire. When she discovers the shocking source, the ultimate confrontation is inevitable.
Adapted and directed by Tobias Andersen, this production will be a suspenseful evening of theater. Ms. Charnas will be attending the opening night performance!