From our partners: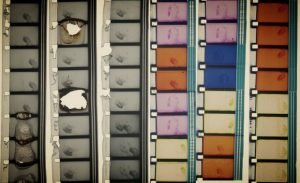 Treasures from the Booth: 16mm Night
November 30-December 2, 2018
Admission is FREE for PSU students & faculty w/ID.
$4 for all other students & seniors.
$5 General Admission
More info: 5thavecinema.com
5th Avenue Cinema
510 SW Hall St., Portland, OR
(503) 725–3551
FRIDAY, NOVEMBER 30th AT 8:00PM
SATURDAY, December 1st AT 8:00PM
SUNDAY, december 2nd AT 3:00pm
Nothing beats the revival of 16mm projection. 5th Avenue Cinema presents an exciting 16mm extravaganza weekend! Projecting an eclectic array of short films on our up-and-running 16mm projector after a 10 year hiatus. You won't want to miss the lineup of 16mm we have in store; from shorts made by the kings of silent film: Buster Keaton and Charlie Chaplin, to lesser known educational films used in classrooms during the 1950's, and even a low budget adult film from the late 1960's. Some titles include: Boogie Woogie Dream with Lena Horne (1944), Jail Bait with Buster Keaton (1937), animated short Closed Mondays (1974), and an educational film from the Bell System Science System titled Gateway to the Mind (1958). Come celebrate the preservation of film and the art of 16mm projection!
FREE PIZZA WILL BE PROVIDED WITH VEGAN, GLUTEN-FREE, AND VEGETARIAN OPTIONS AVAILABLE!
About 5th Avenue Cinema
Oregon's only student run cinema has been operating non-profit since 1989. Our goals are to provide further education for PSU students interested in film, as well as a fun place for people to see something they wouldn't ordinarily get to see on the big screen. The general public is always invited to attend and there is FREE POPCORN at every show. Our feature films are presented on 35mm film, with the occasional screening on our rare Norelco 16mm projector.
Free Admission for Portland State Students