From our sponsors: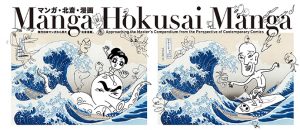 Manga Hokusai Manga: Approaching the Masters Compendium from the Perspective of Contemporary Comics
December 1, 2018 – January 13, 2019
All Ages | $16.95 Adult | 10a-4p Daily
More info: japanesegarden.org
Portland Japanese Garden
611 SW Kingston Ave, Portland, OR 97205
In December, Portland Japanese Garden becomes the only venue in the United States to feature woodblock prints by the world-famous Japanese artist Katsushika Hokusai, (1760-1849), juxtaposed with work by top modern manga artists. Presented in Portland by the Japan Foundation and the Consular Office of Japan in Portland, this exhibition compares and contrasts contemporary Japanese illustrated magazines with Hokusai Manga, an 800-page collection of superb illustrations by Hokusai the ukiyo-e artist recognized the world over for his iconic woodblock print The Great Wave.
Considering Japan's contemporary comics and their global proliferation, the 19th century Hokusai Manga has attracted increasing interest. Fans worldwide tend to regard the pictorial compendium as the origin of today's manga. But do present-day graphic narratives and the master's "diverse drawings" share anything other than a name? This exhibition invites viewers to ponder their own notions about manga by comparing works from different periods while exploring the diversity therein.
Directed by Professor Jaqueline Berndt of Seika University in collaboration with curators Yu Ito of the Kyoto National Manga Museum and Mizuki Takahashi of the Contemporary Art Center, Art Tower Mito, and art director Shin Sobue, the exhibition runs from December 01 through January 13 at Portland Japanese Garden.
Portland Japanese Garden is a private 501(c)(3) charitable non-profit that has been serving the city of Portland for over 55 years. The Garden receives essential funding from gate admissions, retail sales, and the tax-deductible contributions of its members and donors.