From our sponsors: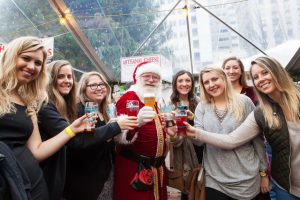 2018 Holiday Ale Festival
November 28-December 2, 2018
Wednesday-Saturday 11a-9p | 11a-5p Sunday
21+ | $40 Cash Only at the Doors
More info: holidayale.com
Pioneer Courthouse Square
701 SW 6th Ave., Portland, OR 97205
The 23rd annual Holiday Ale Festival will take place Nov. 28 through Dec. 2 at Pioneer Courthouse Square, located at 701 SW Sixth Ave. in downtown Portland. The Northwest's longest-running outdoor winter beer festival – which is tented and heated – will feature 54 craft beers, ciders and meads in the main lineup. Participating breweries and cideries have committed to serving a product that has either been made or blended specifically for the event or is a rare or vintage product that isn't commonly tapped in the state.
In addition, the festival will also feature dozens of specialty and rare beer tappings, and a number of Meet the Brewer events. The Holiday Ale Festival is highly regarded as presenting one of best lineups of winter beers and ciders anywhere in the nation.
"Heated clear top tents in the center of downtown, with the city's lighted holiday tree towering over the fest like a beacon for good beer, set the scene for this festival," explained Festival Manager Preston Weesner. "But what really sets it apart are the brewers and their commitment to their fans with the products they choose to make. This festival is an opportunity for the brewers to be all in on the creative factor and throw down something really special to share."
This year's participating breweries include 2 Towns Ciderhouse, Ascendant Beer Co., Bauman's Cider Co., Bear Republic Brewing Co., Coalition, Collaborator (Oregon Brew Crew/Widmer), Crooked Stave Brewing, Crux Fermentation Project, Deschutes Brewery, Drake's Brewing Co., Ecliptic Brewing, Eel River Brewing Co., Elysian Brewing Co., Firestone Walker Brewing Co., Fort George Brewery, Fremont Brewing, Georgetown Brewing Co., Gigantic, Golden Valley Brewery, Great Notion Brewing, Hopworks Urban Brewery, Klamath Basin Brewing Co., Lagunitas Brewing Co., Laurelwood Brewing Co., Lompoc Brewing, MadCow Brewing Co., McMenamins Edgefield Brewery, Migration Brewing Co., Monkless Belgian Ales, Montavilla Brew Works, Nectar Creek, Ninkasi Brewing Co., Oakshire Brewing, Old Town Brewing, Ordnance Brewing, Pelican Brewing Co., pFriem Family Brewers, Portland Cider Co., Reverend Nat's Hard Cider, RiverBend Brewing, Rusty Truck Brewing Co., Shattered Oak Brewing, Stickmen Brewing Co., StormBreaker Brewing, Stoup Brewing, Sunriver Brewing Co., Three Mugs Brewing Co., Upright Brewing, Vanguard Brewing Co., Vertigo Brewing,, Wandering Aengus Ciderworks/Anthem Cider, Widmer Brothers Brewing, Wild Barrel Brewing, and Wolf Tree Brewery. Full details including beer names and styles will be available on the website by mid-October.
Despite being held outdoors during one of the coldest months of the year, more than 14,000 festival attendees stay dry throughout the five-day festival under clear-topped tents warmed by gas heaters. A second level above the main floor, dubbed the Sky Bar, serves additional taps and provides ample elbow room for attendees to relax, spread out and even peek at the revelers below.