We are giving away a pair of tickets to Shakey Graves – The Tour X9 World Tour @ Eugene's McDonald Theatre on December 7. To win, comment on this post why you'd like to attend. Winner will be drawn and emailed Monday, December 3.
———————————————
From our sponsors: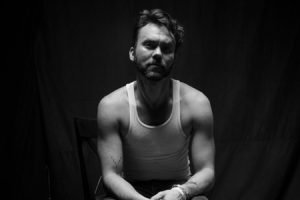 Shakey Graves – The Tour X9 World Tour
December 7, 2018
Doors 7 p.m., Show 8 p.m. | $25-$30 | All Ages
More info: aladdin-theater.com
McDonald Theatre
1010 Willamette St, Eugene, OR 97401
Back in December 2017, Shakey Graves proclaimed on his Twitter page, "Next album. New sound. Sell your suspenders." The tweet was tongue-in-cheek, but Alejandro Rose-Garcia, the Austin native who's been plying his trade as Shakey Graves since 2007, was making a dead-serious point about his latest album, Can't Wake Up (Dualtone, out May 4). This ambitious, audacious work heralds an artistic metamorphosis for the 30-year-old veteran, whose risk-taking in painting outside the lines has been rewarded tenfold. "This record is the most I've ever intentionally worked on a project, musically speaking, in terms of the scope of it and how much thought went into it," he says. "It's a dense album; there's a lot of information going on."
That is not a hyperbolic boast. From one moment to the next, Can't Wake Up veers from the inevitable to the revelatory, its thirteen songs teeming with jarring musical and thematic collisions and thrillingly seamless intersections, gnarly psychological hornswoggles and ecstatic resolutions. Central to the prevailing sense of disorientation are the lead vocals, none of which is purely solo. Instead, each lead performance is shadowed by a queasy harmony or slightly out-of-sync unison part, giving the sense—especially on headphones—that these voices are emanating from inside the listener's head.
Newfound inspirations the Beatles and Harry Nilsson ("I could only deny the inevitable for so long," he says of his belated immersion in the sacred texts) cohered around Rose-Garcia's longtime touchstones, including Elliott Smith, Beck circa One Foot in the Grave, Broken Social Scene, Built to Spill and other indie bands of the 1990s and early oughts.
"I've never worked like this before, but I went into the record with the idea of having a thesis statement of what I wanted to get across," Rose-Garcia explains. "And the place that I got at was that I wanted it to be vaguely Wizard of Oz-themed, and I wanted it to be hectic and a little uncomfortable, like what I refer to as the Big Five Disney cartoons: Pinocchio, Fantasia, Snow White, Dumbo and Bambi. All those movies are terrifying—some of the most stressful movies I've ever seen. So I started with this Wizard of Oz thing—'Tin Man' that has obvious allusions to that—and the idea of black-and-white to color."
The creative process was paralleled by the conception and execution of the striking, hallucinatory cover art. "I built an elaborate miniature diorama in my house and used plexiglass plates, paint and train set buildings to create a forced-perspective illusion and photographed it," Rose-Garcia explains. "The goal was to have the cover and the process to mirror the album in a way, and I am thrilled with how it turned out."
Can't Wake up is Alejandro/Shakey's second official studio-album project—more official, in any case, than the several mostly solo odds-and-ends collections he's been putting out through Bandcamp since his very first release, Roll the Bones, in 2011. It was his previous Dualtone album, 2014's And the War Came, and centerpiece song "Dearly Departed" that lifted Shakey from hard-core cultdom to the elevated status of bona fide career artist.
Up to now, he's been categorized as an Americana singer/songwriter, thanks to his traditionally rooted songs, fluent acoustic-guitar picking, Texas roots and the aforementioned cowboy hat. Indeed, Shakey was named Best Emerging Artist award at the 2015 Americana Music Awards. But that tag will undoubtedly be dismissed as restrictive and irrelevant once this righteously radical new album gets digested by critics and discerning listeners. Because Can't Wake Up is an extreme example of what happens when a kid from an artistic family is encouraged to use his imagination from early childhood onward.
"Not that I hadn't made stuff that I really wanted to, but with this record, I just wanted to go back to building stuff," Rose-Garcia points out, referencing a lifetime of doing just that. "So the creative process of building this record started out with me in a bathrobe in my house just doing what comes naturally, and then finding pieces of what I want to write about everywhere."