Join your North Portland neighbors on Thursday for PROPER, an annual Thanksgiving feast that feeds close to local 1,500 children and adults. Everyone is welcome to gather from Noon – 4 p.m. at Celebration Tabernacle on North Denver.
———————————————
Related Portland Events & Giveaways
———————————————
From press release: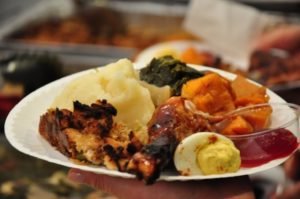 PROPER Kenton Thanksgiving Feast-ival 2018
November 22, 2018
Free | All Ages | Noon – 4 p.m.
More info: properusa.org
Celebration Tabernacle
8131 N. Denver Ave, Portland, 97217
Kenton's favorite Thanksgiving event is back! All community members from Kenton, North Portland, and the greater Portland area are invited to join local community uplift organization Proper USA for the 2018 Proper Kenton Thanksgiving Feast-ival this Thanksgiving Day. The event is free and open to everyone.
Proper, with our partners at Po'Shines Café de la Soul, Celebration Tabernacle and local Kenton neighbors, strives to make this Thanksgiving event the finest of its kind, with music, entertainment, kids' activities, an inclusive community experience, and great food. Chef James Bradley and the Po'Shines team create a fresh, high-quality menu featuring traditional Thanksgiving favorites and innovative new dishes.
"We jump at opportunities like this," says Chef James Bradley, "The more we can get people working together, talking together…and even eating together, the stronger we are as a community. The PROPER Thanksgiving Feed is a great example of how to build community."
The Thanksgiving Feast is held on Thanksgiving Day, Thursday, November 22nd, 2018, 12:00–4:00 pm, at Celebration Tabernacle, 8131 N. Denver Ave, Portland, 97217. Celebration Tabernacle is wheelchair-accessible. Take TriMet bus #4 or the MAX Yellow Line.
Proper depends on our neighbors to support our mission of uniting community across all lines. We receive support from local businesses, community foundations, individual donors, and volunteers. Donations are always encouraged; financial donation go to properusa.org and click "donate now". For in-kind donations, we request that you contact us before November 20th. To volunteer, please go to properusa.org/get-involved.
The Proper Thanksgiving Feast-ival is a safe space for community members of any race, class, ethnicity, gender, sexual identity, ability, nation of origin, age, and religion.
PHOTOS