From our sponsors: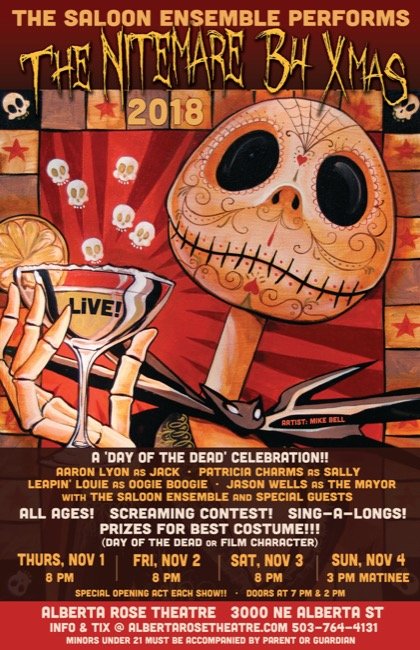 The Nitemare B4 Xmas
November 1-4, 2018
8 p.m. (3p Sunday) | All Ages | $12 Child, $25 Adult
More info: Facebook
Alberta Rose Theatre
3000 NE ALBERTA STREET, PORTLAND, OR 97211
"ALL TOGETHER, THAT AND THIS, WITH ALL OUR TRICKS, WE'RE MAKING CHRISTMAS TIME!"
We're back with a whole new cast for a celebration of "DAY OF THE DEAD!" with this year's production of The Saloon Ensemble's "Nitemare B4 Xmas!!!!" – featuring stilting acro-sensation Aaron Lyon as Jack, his equal Patricia Charms as Sally, Leapin' Louie as Oogie Boogie, Dan Stauffer as Dr. Finkelstein, Jason Wells MC-ing as The Mayor, and The Saloon Ensemble playing all of the other characters!
***WOW!!!!! Portland's THREE FOR SILVER will be opening the evening shows!****
Portland's award winning performance troupe The Saloon Ensemble ("JAWZ THE MUSICAL – IN 3D!") will once again bring to the stage a 10 piece orchestra for a live performance of the brilliant Danny Elfman score complete with interactive SING-A-LONGS, a COSTUME CONTEST (from either Day of the Dead or film-related), everyone's favorite SCREAMING CONTEST and many other 'horrible' surprises!
Celebrate the "Day of the Dead" with our 6th annual production that's been packing houses and delivering joyous fun for all spirits, young and old.