From our partners: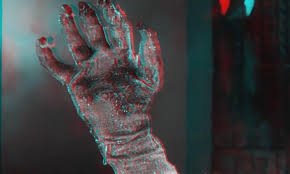 Halloween Double Feature
October 26-28, 2018
Admission is FREE for PSU students & faculty w/ID.
$4 for all other students & seniors.
$5 General Admission
More info: 5thavecinema.com
5th Avenue Cinema
510 SW Hall St., Portland, OR
(503) 725–3551
THE MASK (Digital)
FRI & SAT: 7:00PM SUN: 3:00PM
Dir. Julian Roffman (1961); Canada, 83m
Starring: Paul Stevens, Claudette Nevins, Bill Walker
MYSTERY MOVIE
FRI & SAT: 9:30PM
FRIDAY, OCTOBER 26TH AT 7:00PM & 9:30PM
SATURDAY, OCTOBER 27TH AT 7:00PM & 9:30PM
SUNDAY, OCTOBER 28TH AT 3:00PM
Notable as Canada's first feature length horror film, The Mask offers an experience of psychedelic terror. The story centers on an ancient mask that, when worn, gives its wearer strange visions of a terrifying world. This disturbing phenomenon takes its toll, however, as continual use of the mask brings devastating consequences. The film utilizes a unique form of audience participation: whenever a character puts on the mask the viewers are instructed to put on their 3D glasses to join in the psychedelic splendor of the mask's visions. The 3D sequences owe their surreal beauty to the montage artist Slavko Vorkapich, a veteran of Hollywood who is perhaps best remembered as the mentor of Gumby creator, Art Clokey. The Mask is a true cult gem, mixing schlock horror, visual artistry, and an endearing experiment with anaglyph 3D.
Join us for a mystery movie Friday and Saturday night only! One low budget, NYU undergraduate thesis horror film, for your pleasure. ( ͡° ͜ʖ ͡°)
About 5th Avenue Cinema
Oregon's only student run cinema has been operating non-profit since 1989. Our goals are to provide further education for PSU students interested in film, as well as a fun place for people to see something they wouldn't ordinarily get to see on the big screen. The general public is always invited to attend and there is FREE POPCORN at every show. Our feature films are presented on 35mm film, with the occasional screening on our rare Norelco 16mm projector.
Free Admission for Portland State Students