From our sponsors: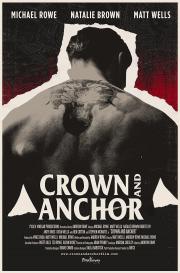 CROWN AND ANCHOR Premiere
October 5, 2018
7 p.m. | $7-10 suggested | All Ages
More info: cstpdx.com
Clinton Street Theater
2522 SE Clinton Street, Portland, OR 97202
Shot on location in St. John's Newfoundland in November of 2016, CROWN AND ANCHOR is a project spearheaded by friends and former bandmates: Matt Wells (Much Music, MTV, Designated Survivor) and Michael Rowe (Arrow, The Flash).
The creative team has a deep history in the punk and hardcore world which is its own character in this film. Matt Wells and Michael Rowe were able to leveral their contacts and goodwill from a life in Music to secure a world class soundtrack. The songs from a selection of legendary/cult bands were specifically chosen to help tell the intense story of James Downey, his cousin Danny, and the ghosts of their past.
Bands include:
Gorilla Buscuits
Youth of Today
Project X
Side by Side
Liliput/Kleenex
X-ray Spex
Ho99o9
DYS
Blood on the Wall
Dog Meat BBQ
CROWN AND ANCHOR
Director: Andrew Rowe
Country: Canada
Year: 2018
Runtime: 119 minutes
James Downey is living a disciplined and straight edge lifestyle as a result of growing up with an abusive alcoholic father. His estranged cousin Danny is drowning his own trauma with drugs and booze. When their lives are forced to intersect once more, they each begin to unravel as the past returns with violent and tragic consequences. Featuring a blistering punk/hardcore soundtrack, Crown and Anchor is a slow-burn drama delivered with the intensity of a punch to the gut.