We are giving away a pair of tickets to ANDAZ: A Bhangra/Bollywood/Desi Bass Dance Party @ The Liquor Store on September 22. To win, comment on this post why you'd like to attend. Winner will be drawn and emailed Friday, September 21.
———————————————
From our sponsors: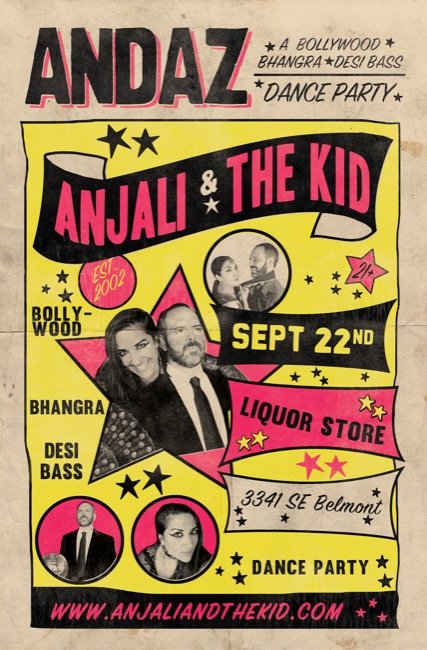 ANDAZ: A Bhangra/Bollywood/Desi Bass Dance Party
September 22, 2018
9 p.m. | $10 | 21+
More info: anjaliandthekid.com
The Liquor Store
3341 SE Belmont Ave., Portland, OR 97214
Featuring hosts and resident DJs Anjali & The Incredible Kid.
With musician Adam McCollom (SEA) on the dhol.
"After 18 years as a duo, DJ Anjali and the Incredible Kid are a Portland institution. It's difficult to think of a local dance night with a more lovingly crafted mix of Bollywood, urban desi and Indian dance pop." – Willamette Week 9/19/18
ANDAZ is the longest-running Bhangra & Bollywood dance party in the world, a transportive experience that has enraptured feverishly dancing Portland crowds for 16 years. 2018 also marks the twentieth anniversary of the release of Panjabi MC's "Mundian To Bach Ke," which became a top 40 hit for Jay-Z in 2003 as "Beware of the Boys."
The Portland Tribune featured a story on the 15th-anniversary of ANDAZ: http://news.pamplinmedia.com/pt/11-features/366852-247638-hooray-for-bollywood-dance-party-turns-15
ANDAZ was featured in a 7-page spread in the May 2017 issue of GQ India: https://www.gqindia.com/content/the-amazing-story-of-how-desi-parties-are-keeping-portland-weird/
Anjali and The Incredible Kid won Best DJ in Willamette Week's Best of Portland 2016 and 2017 Readers' Poll.
DJ ANJALI AND THE INCREDIBLE KID
www.anjaliandthekid.com
www.facebook.com/Anjaliandthekid
www.soundcloud.com/djanjali
www.soundcloud.com/the-incredible-kid
www.instagram.com/anjaliandthekid
www.instagram.com/theincrediblekid
DJ Anjali and The Incredible Kid have spent more than fifteen years igniting dance floors with cutting edge music not limited by borders or language. They host the longest-running Bhangra and Bollywood party in the world, co-founded the Pacific Northwest's first Global Bass dance party and host two weekly radio shows on XRAY.FM and KBOO.FM. Few DJs can be said to have changed the sound of their city but that is exactly what DJ Anjali and The Incredible Kid have accomplished since they first introduced Portland, Oregon nightclub audiences to the many varied sounds of Global Bass at a raucous New Year's Eve debut in 2000. They are most known for incinerating dance floors with the heavy dance floor artillery of South Asia, but the duo scour the globe for any hard-hitting music that combines local music traditions with window-rattling production. Anjali and The Kid regularly perform at festivals including five sets at the Sasquatch! Music Festival (2011), Decibel, MusicfestNW, Vancouver International Bhangra Celebration, Beloved, Photosynthesis, Soul'd Out, Portland International Film Festival, Indian Summer Festival, Kaleidoscope and the Vancouver Queer Film Festival. They have guested at the legendary Basement Bhangra (NYC) numerous times as well as Non Stop Bhangra (SF), iBomba (NYC) and Bhangrateque (Chicago.)
After making a name for themselves in their hometown's raucous house party circuit, DJ Anjali & The Incredible Kid introduced the Portland, Oregon nightclub scene to the sounds of Bhangra, Bollywood and Global Bass on New Year's Eve 2000. A series of residencies followed, beginning with a night at the legendary Blackbird, and the duo began hosting their ANDAZ dance parties in July of 2002. The party's focus on hardcore Panjabi Bhangra and the latest electronic confections from the Bollywood film industry continue to pack the dance floor after 16 years. While ANDAZ was still in the bloom of youth, Anjali and The Kid founded the revolutionary dance night ATLAS (with co-host/DJ E3) at Holocene in November of 2003 to introduce Portland to Global Bass sounds such as: Balkan Beats, Reggaeton, Funk Carioca, 3Ball Guarachero, Digital Cumbia, Urban Desi, French and Arabic Hip-Hop, Rai N B, Reggada, Dembow, Dubstep, Kuduro, Merengue Urbano and a host of other local and diasporic future musics. ATLAS was a vital party in Portland nightlife and the Global Bass scene internationally for more than nine years. In 2013 Anjali and The Kid initiated TROPITAAL: A Desi Latino Soundclash, their latest project.
They have supported artists as diverse as A Tribe Called Red, Bomba Estéreo, Tigerstyle, Balkan Beat Box, Major Lazer, Skrillex, Flying Lotus, Saini Surinder, Digable Planets, Delhi 2 Dublin, Sleigh Bells, Glitch Mob, Dengue Fever, Blockhead, Uproot Andy, Hindi Zahra, Toy Selectah, Quantic, Opiuo, Bonobo, Gold Panda, Maga Bo, Poirier, Plastician, Kultur Shock, Ghostland Observatory, State of Bengal, Karsh Kale, DJ Rekha, DJ Spooky, CeU, Antibalas, Nickodemus & Joro-Boro.
"The West Coast's king and queen of bhangra/global bass/Bollywood dance parties, DJ Anjali and the Incredible Kid." -The Portland Mercury 8/17/16
"For more than 15 years, DJ Anjali and the Incredible Kid have been an inimitable force in the Portland dance scene." -The Portland Mercury 6/22/16
"Anjali and The Incredible Kid, Portland's resident top Bollywood and bhangra deejays." -The Portland Tribune 3/12/15
"DJ Anjali & the Incredible Kid have been Portland's leading world music DJs since the turn of the millennium." -Willamette Week 12/31/14
"Portland's finest purveyors of Bollywood, bhangra and global bass music." -Vortex Music Magazine 10/12/14
"Known for bringing cutting-edge music to virgin ears, they are guaranteed to throw you a good time" -Eleven PDX Magazine December 2013
"Maybe the Portland area's most well-known deejays." The Portland Tribune 1/26/12
"People were talking about all weekend: DJ Anjali & The Incredible Kid–playing every, SINGLE day (the only performers to do so), the Portland duo was the must-not-miss Bollywood/bhangra dance party makers of the weekend." (Sasquatch! Festival 2011) Oregon Music News 5/31/11
"Celebrate our local heroes as they hold down the biggest rock fest in the Northwest" (Sasquatch! Festival 2011) The Portland Mercury 5/26/11
"DJ Anjali and the Incredible Kid sets are one of Portland's great recurring dance parties." Willamette Week 12/16/09
"Portland's favorite boy/girl DJ pair" The Oregonian 6/19/09
"The pair have been keeping Portland dancing for so long in various incarnations, imagining the local music scene without their bhangra and Bollywood rhythms is unthinkable. " The Oregonian 5/26/06
"The DJs responsible for making "bhangra" and "Asian garage" somewhat household words outside Portland's Desi community" – The Portland Mercury 1/8/04