We are giving away a pair of tickets to Relationships in Memory w/ Portland Storytellers Guild @ Clinton Street Theater on October 6. To win, comment on this post why you'd like to attend. Winner will be drawn and emailed Monday, October 1.
———————————————
From our sponsors: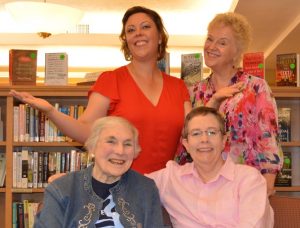 Portland Storytellers Guild presents Relationships in Memory
October 6, 2018
7 p.m. | $12 ADV, $15 Doors
Purchase tickets at portlandstorytellers.org
Clinton Street Theater
2522 SE Clinton St., Portland, OR
You tell the story this way. Your mother remembers it that way. Your brother has his version. And who knows, decades later everyone might remember it in a completely different way.
Kitty Kaping, Kriya Kaping, Gretchen Peterson and Pearl Steinberg explore stories from different points of view in "Relationships in Memory," the Portland Storytellers Guild's monthly performance Saturday evening, October 6 at the Clinton Street Theater. From mothers and daughters and grandmothers to a fish in the desert to brushes with angels, their stories will delve into how our memories choose our version of events in a fascinating evening of stories worth remembering.
Tickets are $15 at the door and $12 online at portlandstorytellers.org. Doors open at 7 and the stories start flowing at 7:30.
Kitty Kaping comes from a family of storytellers. She learned how to tell stories from her father who could captivate a room with his personal stories from the heart. Kitty fell in love with storytelling through folk music, and started a family singing group called Traveling Light. She's excited to tell a story with her daughter Kriya, who's an avid storyteller.
Kriya Kaping, who has a passion for personal narrative, often uses her love of storytelling as an outreach specialist to support organizations and individuals in sharing stories that strengthen community ties and personal connections. Her family motto is "if it doesn't kill you it makes for a good story." Luckily for Kriya, her life experiences have included enough calamity, hilarity, and insight to keep the stories flowing for years to come.
Gretchen Peterson enjoys crafting and performing personal stories, original folktales, fairy tales, and myths – usually with the theme of women who love women. She loves that storytelling lets her unleash her inner actress. Gretchen's mantra, which she often shares with audiences, is "I have a story! And my voice matters!" Her personal journey of finding her voice through storytelling was reflected in her most recent one-woman show, Persephone Xoa Iris.
Pearl Steinberg loved hearing and telling stories from her earliest years. But it wasn't until she took a workshop with Elizabeth Ellis 20 years ago at the Omega Institute in Rye, N.Y., that she became a professional storyteller. Since then she has become a Guild favorite and also regaled audiences at libraries, houses of worship and retirement communities.