From our sponsors: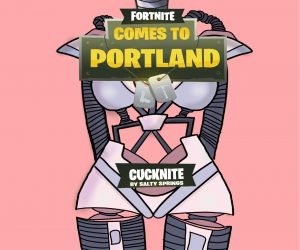 Cucknite by Salty Springs
More info: Soundcloud | Apple Music | Spotify
Cucknite – a newly released single by a producer in Portland that exhibits aspects of multiple genres and carries a groove with an overall feel in the vicinity of Daft Punk. Salty Springs's cheeky humor references the world's most popular video game, but this instrumental track should resonate whether or not you get the joke.
Salty Springs's overall musical goal is to produce sounds that have strong replay value, an upbeat energy, authentic instrumentation, and a tendency to get hips moving. Another objective is to design music that would fit perfectly for character emotes in the highly popular multiplayer game Fortnite (which feature specific musical accompaniments for each emote "dance" a player performs). For those unfamiliar with Epic Games's Fortnite: Battle Royal: each player is launched into a map where you fight to survive against 99 other players. There is only one winner in this free-for-all, and nothing hurts as bad as 2nd place. All players have access to emotes through purchase, or finishing challenges. Salty Springs Music is dedicated to putting out quality music that'll eventually land him a placement in the video game.
It took four months, five producers and three engineers to bring this track to completion which is broken down further in his Earmilk write up. Salty Springs is excited as we are to share this track with you. Find it on Soundcloud, Spotify, Apple Music, Tidal, and every other major music platforms. By next year they will be launching an animated short series, showcasing the all-too-familiar tribulations of those suffering from Fortnite addiction.