From our sponsors: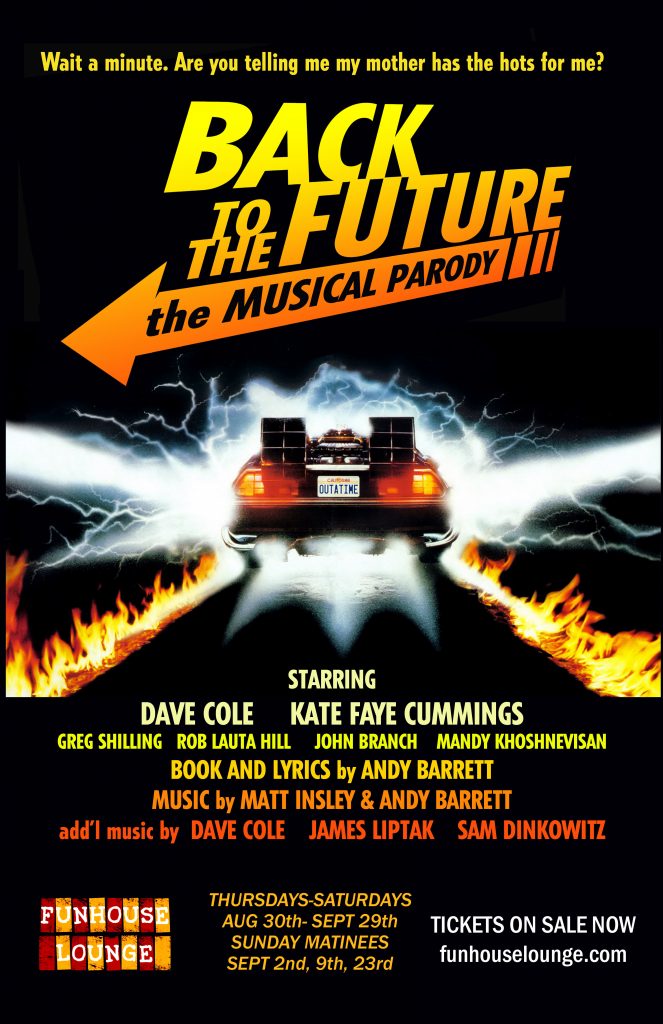 Back to the Future, the Musical Parody
Thursdays-Saturdays August 30-September 29, 2018
7 p.m. (2 p.m. September 2, 9, 23)
16+ | Starts at $19.85
More info: funhouselounge.com
Funhouse Lounge
2432 SE 11th Ave., Portland, OR 97214
Funhouse Lounge presents Back to the Future, the Musical Parody—an original musical!
From the writers and producers of last year's smash original hit: Die Hard the Musical Parody, The Funhouse Lounge proudly brings you our newest original musical parody: Back to the Future, the Musical Parody!
Doc Brown. Marty McFly. An iconic time machine. A bully. A school dance. Oedipal overtones. We all know the story.
Or do we?
Return with us to Hill Valley to find out how things really unfolded on that fateful week back in 1955 when Marty McFly accidentally prevented his parents' first meeting, thus threatening his own existence!
With 14 original songs, this show presents a treasured classic in a way you've never imagined.
See it. Or Darth Vader will come down from the planet Vulcan and melt your brain.
Directed by Andy Barrett
Starring: Dave Cole as Marty McFly, Kate Faye Cummings as Lorraine, John Branch as Doc Brown, Greg Shilling as George McFly and Mandy Khoshnevisan as Biff Tannen.
Musical Director: Matt Insley
Created by Andy Barrett and Matt Insley with additional music by Dave Cole, James Liptak and Sam Dinkowitz.