From our sponsors: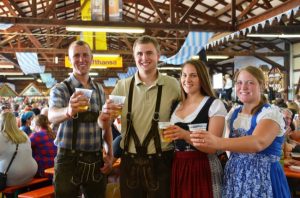 Mount Angel Oktoberfest
September 13-16, 2018
Most events are free | All Ages
Weingarten, Alpinegarten and Biergarten: $5-$15 depending on day/time
Weingarten and Biergarten restricted to those 21+ After 9 p.m.
See oktoberfest.org for information on lodging and events.
See the Full Schedule at oktoberfest.org
Like us on Facebook or follow us on Twitter to enjoy the countdown to the festival.
One of the longest standing, best-loved folk festivals in the northwest, celebrates its 53rd festival September 13 – 16, 2018. Average attendance now tops 350,000. Throughout the years, Mount Angel's Oktoberfest has offered traditional Bavarian food, fun and entertainment for the whole family. The 2018 Oktoberfest features fifty food booths, a large arts and crafts show and a whole lot more.
There are over 250 events and performances on the Oktoberfest schedule. Some must see events at the 2018 festival include:
The Webertanz, the weaver's dance, and other traditional dances performed each morning by the Mount Angel School children.
The sounds of alp horns in St. Mary Church; has acoustics that enhance the sound of the alp horns and German stained glass that gives the church its nickname, the gothic jewel of the Willamette Valley.
Die Fruchtsaule, the Harvest Monument is the symbol Oktoberfest. A 20' tall obelisk decorated with the fruits of the harvest.
The Street Dance held on Friday and Saturday night at the Bandstand.
Great musical performances by:
Die Original Donaumusikanten of Germany, die Schlauberger from New York City, Gruber Family Band from California,
Mollie B and the Squeeze Box Band from Ohio, Z-Musikmakers from Mount Angel, Chardon Polka Band also from Ohio, and many more.
Wiener dog races
The extensive all free Kindergarten with ZuZu Acrobat performances, rides and activities focused on kids.
Taste great beers from Germany and delicious craft beer from the NW. Wines imported from Germany including fabulous white wines that Germany is known for and some unique reds. We also offer NW wines, and a bit of cider.
The diversity of events scheduled and the uniqueness of Mount Angel and its surrounding countryside promises something to do and see for everyone. Gather family and friends to come share our 53rd year of Celebration.
The festival is organized and run by volunteers. It is the largest, all volunteer led event in the Northwest. It is dedicated to providing a quality, reasonably priced family celebration, which raises funds for deserving, non-profit organizations in Mount Angel and the surrounding communities. Since it began, Oktoberfest has donated over $3,300,000 to schools, churches, civic organizations, youth activities, senior services, hospitals, and a score of other worthwhile causes.