We are giving away a pair of tickets to Punch Brothers and Andrew Bird @ Oregon Zoo on August 18 . To win, comment on this post why you'd like to attend. Winner will be drawn and emailed Monday,  August 13.
———————————————
From our sponsors: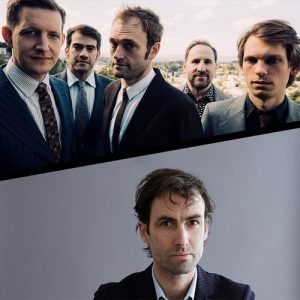 Punch Brothers and Andrew Bird
August 18, 2018
Doors 5 p.m., Show 7 p.m. | $39.50 – $99.50 | All Ages
Tickets: zooconcerts.com
Oregon Zoo
4001 SW Canyon Road, Portland, OR, 97221
All Ashore, Punch Brothers' fifth album and the first to be self-produced by the quintet, is both ambitious and easygoing, a lot like the "ridiculously eclectic" combo, as London's Guardian once called the band. The work has the feel of a nine-song suite, one that invites you to unravel the threads of its connected themes and stories over repeated listening. Each track segues seamlessly, even a little sneakily, into the next. Before you know it, "The Angel of Doubt," a dark-night-of-the-soul drama featuring a vocal from singer-mandolinist Chris Thile, has glided into "Three Dots and a Dash," an instrumental that veers from ruminative to rave up, named in tribute to a classic Tiki cocktail, Thile's latest recreational obsession.
Thile calls All Ashore "a meditation on committed relationships in the present day, particularly in light of the current unsettled political climate—certainly the most unsettled one that anyone in the band has ever experienced." He continues, "We were hoping we could create a thing that would be convincing as a complete thought, sort of a nine-movement or a nine-song thought, even though it's rangy in terms of what it's talking about and in the characters doing the talking."
When Punch Brothers released its last album, Phosphorescent Blues, in 2015, Rolling Stone noted, "The genius of Thile and bandmates guitar player Chris Eldridge, bassist Paul Kowert, banjo player Noam Pikelny, and fiddler Gabe Witcher is the artistry with which they mix bluegrass, roots, rock, pop, jazz, and classical to create a unique, contemporary sound." All Ashore also has an appealingly relaxed virtuosity to it, self-assured but never showy.
In a more pronounced way than on prior discs, All Ashore comes across as a glimpse into Punch Brothers' current real life, as these artists who have spent more than a dozen years playing together grapple with marriage, family, and their ever-accelerating individual careers as producers, composers, arrangers, and front men. On the album's early tracks, it candidly addresses the state of their own world. In smart and satirical later songs like "Jumbo" and "All Part of The Plan," it tackles the state of our collective one. Understated ballad "The Gardener" poignantly combines the personal and political in its evocation of a dedicated tradesman who brings beauty to a family's garden but remains a stranger, a mysterious other, to them, only glimpsed occasionally from a window.
The five band members took time from their families to once again come together United Sound in Los Angeles (formerly Ocean Way), where they'd previously recorded Phosphorescent Blues with T Bone Burnett as well as their 2010 album, Antifogmatic. Pikelny says. "When we first got together as a band, we were mostly single guys in our mid to late twenties. We shared a musical vision but there was this sense of fraternity, of brotherhood, that really sealed the deal and laid the groundwork for a long lasting collaboration."