From our sponsors: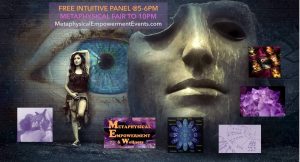 Metaphysical Empowerment Fair PDX
July 13, 2018
5-10p | Free | All Ages
More info: Facebook
Gem Studio
1110 NE Glisan St, Portland, Oregon 97232
Enjoy 20 Readers, Healers and Vendors at our Metaphysical Empowerment Fair!
5pm – Free Intuitive Panel
5-10pm – Metaphysical Fair
Psychics • Channels • Shamanic Sound Healing • Akashic Records • Tarot • Mediumship • Dream Readings • Intuition, Eye Reading • Jewelry • Medical Intuition • Jewelry • Crystals • Reiki • Theta Healing • Bodywork • Medical Intuition • Archangels • Oracles • Spirits and Guides • Astrology • Hypnotherapy • Chinese Medicine • Reflexology • Spirituality and much more!
FREE ADMISSION TO THE PUBLIC * SNACKS PROVIDED
Sessions are provided for a fee.
We have a FREE INTUITIVE PANEL from 5-6pm,a selection of our practitioners will offer their work for free in an informal panel format, answering your questions. This is a great way to sample our practitioners – having them answer your question and hearing them answer questions from others. Arrive on time to get your question in!
The Fair will continue 6pm until 10pm.
This month, enjoy these readings and sessions:
Intuitive Readings & Jewelry with Kirstin
Inner Magic Coaching with Heather Mist www.heathermist.com
Intuitive Eye Readings & Body Psychology with www.LaureliShimayo.com of ThriveTypes
Transpersonal Therapy, Psychic Mediumship & Intuituve Channeling with Mary Bear-Rittenmeyer
Medical Intuition, Footbaths & Aroma Healing with Diana Nizich
Channeling & Organite with Kendra Jonas
"Find Your Bliss" with Wynnie of Blissful Wynnie Books
Medical Intuition, Astrology & Clairvoyance with Cara James
Psychic-Medium & Shamanic Sessions with Derrek Becker
Mother Earth Orgone EMF Protection Devices with John Thompson
Clairvoyant Readings, Essential Oils & Gemstones with Katie Brown of Soul Shine: Readings & More
Evolutionary Astrology with Marina Ormes of Astrology Heals
Ear Reflexology + Pranic Healing with Cathy Gasper H.O.P.E Hold on Pain Ends
8 more on the way!
We've got a great location in inner NE Portland with a FREE PARKING LOT!!! Gem Studio is at 1110 NE Glisan St, Portland, OR 97232 – CLOSE IN to every area.