From our sponsors: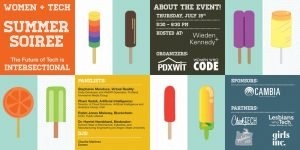 PDX Women in Tech (PDXWIT) Women + Tech Summer Soiree
July 19, 2018
FREE | 5:30-8:30p | All Ages
More info: eventbrite.com
 Wieden+Kennedy
224 Northwest 13th Avenue, Portland, OR 97209
Join us for our annual summer soiree, brought to you by PDX Women in Tech and Women Who Code, in partnership with Lesbians Who Tech, ChickTech, Girls Inc. and PyLadies, hosted by Wieden+Kennedy and sponsored by Cambia!
Kimberlé W. Crenshaw, a civil rights advocate, feminist and UCLA School of Law and Columbia Law professor specializing in race and gender issues, coined the term intersectionality to describe how people's various identities (racial, gender, class. etc.) intersect and overlap, creating a cumulative effect in the discrimination they receive.
At this year's summer soiree, we dedicate our theme to our proclamation that the future of tech must be intersectional. Otherwise, the technologies that are being developed today will not consider the needs of large swaths of our population and thus will not succeed. This night is dedicated to introducing you to leaders in the spaces of blockchain, virtual reality, and artificial intelligence to demonstrate the accessibility of these spaces to the people of our community. We also hope to carve a path forward, together, where we can push for the change that needs to happen in these industries. To support this discussion our conversation starter for the evening is "how can tech be more accessible to underrepresented communities?"
The summer soiree will feature a panel and be followed by networking.
During the event, we'll have an Activity Table where people can get creative. This is a fantastic way to meet others if large groups are not your thing. If you have trouble finding it, look for Meg Aul, our Event Activities Director.