From our sponsors: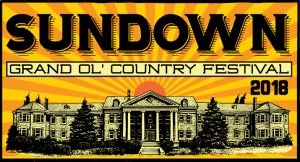 2018 Sundown Grand Ol' Country Festival
July 22, 2018
Free | All Ages | 1-9 p.m.
More info: mcmenamins.com
McMenamins Grand Lodge
3505 Pacific Ave., Forest Grove, OR 97116
Our annual music festival returns for a day of performances on multiple stages – and hold on to your hat as we feature Classic Country, Honky Tonk, Americana, Country Rock and Tejano.
Main Stage on the Lawn
1 p.m. * Caleb Caudle
2:30 p.m. * Bastard Sons of Johnny Cash
4 p.m. * Los Supremos De Los Hermanos Flores
5:30 p.m. * Jenny Don't and The Spurs
7:30 p.m. * Cloverdayle
Pat's Corner Americana Stage
2 p.m. * Silver Lake 66
3:30 p.m. * Jawbone Flats
5 p.m. * The Lonesomes
6:30 p.m. * Connie Jo Collins: CJ's Country Dance Instruction – learn how to line dance in less than an hour from expert instructor Connie Jo.
Garage Door
7 p.m. * Gary Bennett and the Coattail Riders
In addition, plan to update your country collection by shopping onsite at our specialty Western Market Place – a new hand-tooled belt buckle, perhaps?