From our sponsors: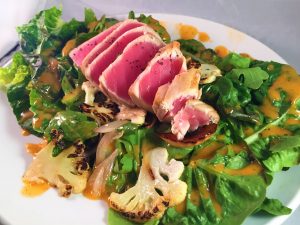 EastBurn Releases New Menus for Summer 2018!
More info: theeastburn.com
EastBurn
1800 E Burnside St, Portland, OR 97214
EastBurn is staring summer off with fresh menus for Brunch, Lunch, Dinner & Happy Hour!
EastBurn boasts a full dinner menu (Starts at 3 p.m.) & recess happy hour (3-5 p.m.) featuring discounts on the entire Dinner Menu with $2 off appetizers and handhelds and $1 off salads and entrees plus drink specials.
EastBurn is open for Brunch 7 days a week (11a-3p) and have a M-F lunch menu on top of their already rock solid brunch menu. Stop by Saturday & Sunday for Bob Ross Brunch from 10-3pm
See below fora small sample of delicious options:
AHI TUNA NICOISE SALAD  seared ahi tuna with leafy greens, baby potatoes, green beans, cherry tomatoes, shaved radish, and peas tossed in our house made light anchovy vinaigrette with a hard-boiled egg [GF] [DF]
BACON AND EGG SALAD frisee lettuce wilted in our warmed bacon vinaigrette, tossed with roasted hazelnuts and topped with a sunny-side-up egg [GF]
HOUSE SMOKED BONE-IN PORK CHOP placed over arugula, gouda cheese and mustard seed risotto & topped with fresh shaved horseradish [GF]
THE EASTBURN DIP thin sliced roast beef with horseradish aioli*, caramelized onions & melted swiss on a toasted french roll & served with red wine au jus
CHEESEMONGER'S Board for 2 Chef Steve's selection of 3 cheeses with fruit, almonds & warm baguettes [V]
HUNTER'S Board for 2 Chef Steve's selection of cured meats & pate' with mustard, house-pickles & warm  baguettes
COLUMBIA RIVER STEELHEAD pan-roasted steelhead glazed with our house made watermelon BBQ sauce served over a sweet corn, gold potato, and fava bean creamed succotash
CAPRESE BENEDICT  fresh mozzarella, oven roasted tomatoes, poached eggs*and béarnaise sauce on grilled polenta cakes with side of beer bread [V]
CROQUE MADAME  one egg* any style with pitman ham, aged cheddar cheese and hollandaise on sourdough toast with yukon gold potatoes