From our sponsors: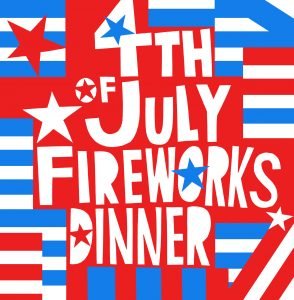 July 4th Celebration
July 4, 2018
4-9 p.m. | $55 per person
More info: clarklewispdx.com
Clarklewis
1001 SE Water Ave, Portland, OR 97214
The parking lot behind Clarklewis is a great place to view the downtown fireworks display on the 4th of July, not to mention an easy and convenient place to park your car in the area, (as long as you are a customer of the restaurant).
Last year we had a blast on the 4th, so we're doin' it again, but this year the party will feature "Groovy Wallpaper" a fantastic live band in the parking lot under the fireworks display, hay bales, ice cream and cocktail service. Bring your lawn chairs for after-dinner viewing – available to people having dinner and/or drinks at Clarklewis only, with no cover charge.
The special 4th of July dinner menu, shown below, is available for $55 per person or can be ordered a la carte, so let us save a table for you, and make a reservation now:
Come celebrate the good ole U.S. of A. at Clarklewis!
4th of July Dinner at Clarklewis
Three-courses, with options at each course
•
choice of first course
Grilled peach & tomato salad
Burrata, aged balsamic, basil powder, hazelnut crumble, farm greens
Grilled Corn
'Nduja gravy, golden raisin gremolata, ricotta salata
Summer Salad
Grilled squash, radish, turnips, barley, charred tomatillo dressing, parmesan
Market Greens
Cucumber, strawberry, fennel, chia seed, granola, smoked chevre, carrot kombucha vinaigrette
•
choice of entree
Roasted Half Chicken
Sous vide breast, confit leg, corn, tomatoes, fava beans, farro, hard cider tarragon sauce
Grilled Salmon
Rainbow chard, summer vegetable risotto
Steak
Balsamic marinated hanger steak, roasted purple potatoes, romano beans, farm greens, salsa verde
Smoked Pork Chop
Cannellini beans, harissa, summer squash, bacon
•
choice of dessert
Apple Crisp
Caramel mousse
Cheesecake
Blueberry compote
Chocolate Ice Box Cake
House Specialty Cocktails featured on the 4th.
clarklewis manhattan
eagle rare bourbon, carpano antica, angostura bitters 14.
mezcal margarita
banhez mezcal, citrus & simple served up 14.
blood orange drop
vodka, harlequin, citurs & blood orange puree with a float of bubbles 14.