From our sponsors: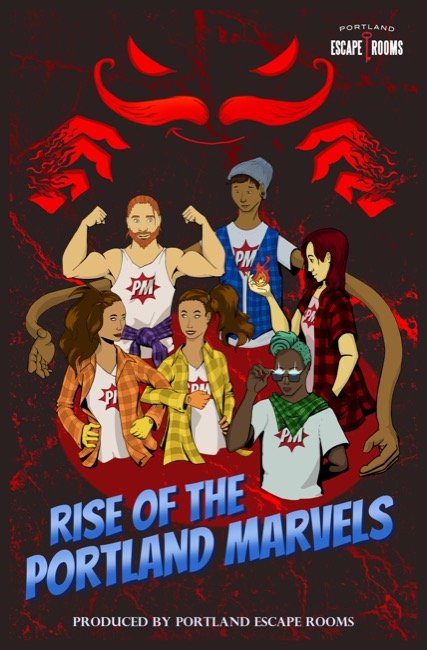 Rise of the Portland Marvels
July 7-8, 2018
10a-8p | 4-6 Players per team | $18-$20
Book Tickets Now at eventbrite.com
Pioneer Courthouse Square
701 SW 6th Ave, Portland, OR 97204
In a world where caffeine fuels the powers of our greatest super heroes, the Stumptown Stealer is at it again! The maniacal villain has created the dreaded Decaffeinator to steal all of the caffeine from the citizens of Portland. He's climbed atop the tallest volcano in the city, and only the Portland Marvels can stop him! Will they find a way to regain their powers and stop the evil villain before all hope is lost and all lattes are decaf?
FAQ
Is this an escape room?
This is an open area event that still pushes players through a story filled with puzzles. While there is still an "escape" or success element, there is no locked door to escape through.
What time does the game start?
You will purchase tickets for your specific start time. Please arrive 10-15 minutes before your scheduled start time to check in and sign waivers before you begin.
How long will the game last?
Once you start your game you will move at your own pace, so exact end times depend on your group. Generally you can expect your experience to last from 30-45 minutes.
Do I need to come with my own group?
If you buy a single ticket, we will happily partner you up with other smaller groups. If you have a group of 4-6 already, you will take part with only your group!
Is there an age requirement?
We highly encourage a family friendly environment for all ages. Please note, this game has physical aspects to it and requires some puzzle solving ability throughout. Children under 5 have free admission and will not count towards your group total.