From our sponsors: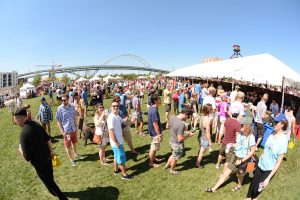 Portland Craft Beer Festival
July 6-8, 2018
Friday, July 6th 12pm -10pm (21+)
Saturday, July 7th 12pm – 10pm (21+)
Sunday – Family Day, July 8th 12pm – 7pm (all ages)
$25 ADV Before July 6, $30 After/Doors | Tickets: portlandcraftbeerfestival.com
More info: portlandcraftbeerfestival.com
The Fields Neighborhood Park
1099 NW Overton St, Portland, OR 97209
Portland Craft Beer Festival is excited to announce our 4th annual festival at The Fields Park in NW Portland over the July 6-8 weekend, kicking off Oregon Craft Beer Month. Our event is the only opportunity for the public to taste a substantial representation of beers originating from Portland, Oregon breweries. Choose from over 100 beers to sample from  50 local breweries including Lagers, Sours, Stouts, Belgians and IPAs, showcasing the breweries within the Portland city limits. Sip local Ciders and wine, too. Our Oregon regional guest trailer will feature beer from 7 breweries from Central Oregon, Boneyard, Cascade lakes, Crux, Good Lift, Sunriver, Wild Ride and Worthy Brewery.
PCBF features several local food carts, including Urban German, Pig Sauce BBQ, PDX Sliders, and new this year – Boke Bowl. We will also have numerous games such as corn hole, pinball & ping pong, along with booths for local businesses. A children's market will be set up to start our Family Day on Sunday.
Portland Craft Beer Festival 2017: 30 second Teaser from Geena Pietromonaco on Vimeo.
Individual participation cost is $30 for a mug with 10 beer coupons. Mug and wristband allows entry all weekend. With some exceptions for special beers or wine, 1 ticket will yield one 4 oz pour and 4 tickets will buy a full pour. Additional coupons will be available for purchase at $1.00 apiece. Please note: If admission is purchased in advance, buyers will save $5, plus receive an extra 5 drink coupons. These $25 tickets are now available for purchase through www.PortlandCraftBeerFestival.com or directly through Bold Type Tickets.
As in previous years, PCBF will again donate 10% of its proceeds to CaskAide, Inc. and its partner charities. CaskAide, Inc. was formed to partner with the Portland Craft Beer Festival to support local non-profits through the promotion of local breweries. Starting in 2018, we welcome new partner – Schoolhouse Supplies! The Oregon Brew Crew and Friends of Trees are also partner charities.
We appreciate the special support from Bridgeport Brewery, Market of Choice, and Kimpton Hotels! Each of these businesses will have a presence at PCBF.