We are giving away a pair of tickets to Béla Fleck & The Flecktones @ Oregon Zooon July 14 . To win, comment on this post why you'd like to attend. Winner will be drawn and emailed Monday, July 9 .
———————————————
From our sponsors: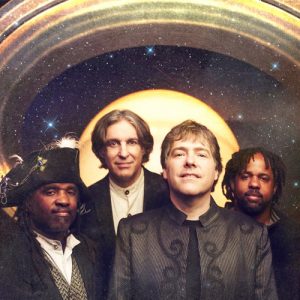 Oregon Zoo Presents
Béla Fleck & The Flecktones
David Grisman Trio, The Jerry Douglas Band
July 14, 2018
Doors 5:00 PM / Show 6:30 PM | All Ages | $39.50 – $99.50
Tickets: zooconcerts.com
Oregon Zoo
4001 SW Canyon Road, Portland, OR, 97221
Groundbreaking banjoist/composer/bandleader Béla Fleck has reconvened the original 'Béla Fleck & The Flecktones', the extraordinary initial line-up of his incredible combo. Rocket Science marks the first recording by the first fab four Flecktones in almost two decades, with pianist/harmonica player Howard Levy back in the fold alongside Fleck, bassist Victor Wooten, and percussionist/ Drumitarist Roy "Futureman" Wooten. Far from being a wistful trip back in time, the album sees the Grammy Award-winning quartet creating some of the most forward thinking music of their long, storied career. While all manners of genres come into play – from classical and jazz to bluegrass and African music to electric blues and Eastern European folk dances – the result is an impossible to pigeonhole sound all their own, a meeting of musical minds that remains, as ever, utterly indescribable. Simply put, it is The Flecktones, the music made only when these four individuals come together.
"All the different things I do come together to make a new 'hybrid' Béla'," Fleck says. "Everybody else in the group is doing the same things, collaborating with different people, and pursuing a wide variety of ideas, so when we come together and put all of our separate soups into one big stockpot it turns into a very diverse concoction." Fleck first united the Flecktones in 1988, ostensibly for a single performance on PBS' Lonesome Pine Special. From the start, there was a special kinship between the four musicians, a bond forged in a mutual passion for creativity and artistic advancement. Three breakthrough albums and a whole lot of live dates followed before Levy decided to move on in late 1992.
"I wanted to do other things and there was no time to do anything else," he explains. "We were probably playing 150 shows a year at that time – maybe more – and it was just too much for me. I've never, before or since, done any one thing that much!" Béla Fleck & the Flecktones persevered, playing as a trio and with many special guests, before saxophonist Jeff Coffin joined the ensemble. A succession of acclaimed albums and innumerable live performances continued to earn the band a fervent fan following around the world, not to mention five Grammy Awards in a range of categories.
Still, by 2008, the band had grown somewhat restive and embarked on a temporary hiatus. The seeds of change began with what Futureman calls the "paintbrushes of fate" as Coffin was invited to join Dave Matthews Band after the 2008 death of saxophonist LeRoi Moore. Fleck encouraged him to accept, believing the decision would rejuvenate both DMB and the Flecktones themselves. "We were ready for something different to happen," he says. "We'd been in a kind of holding pattern. We had the same line-up for so many years that it was becoming 'normal', we were all drifting into outside things for new musical invigoration, and we were taking more and more time off between albums and tours."