From our sponsors: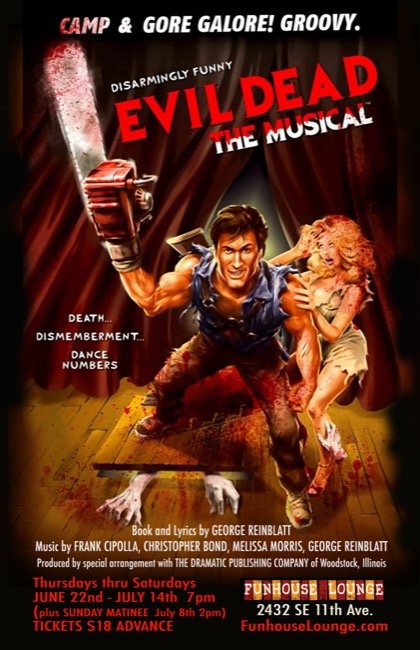 Evil Dead the Musical
June 22-July 14, 2018
Thursdays-Saturdays & Sunday, July 8, 2018
18+ | $18 GA
More info: funhouselounge.com
Funhouse Lounge
2432 SE 11th Ave., Portland, OR 97214
Funhouse Lounge proudly presents Evil Dead the Musical!
Five college students go to an abandoned cabin in the woods, and accidentally unleash an evil force that turns them all into demons. It's all up to Ash (a housewares employee, turned demon-killing hero), and his trusty chainsaw to save the day.
Death! Demons! Dismemberment! Dance Numbers!
Based on the Evil Dead series of films, this bloody hilarious splatter-fest has it all.
Featuring Sean Ryan Lamb, Landy Hite, Paige Gregory, Aidan Nolan, Bill Christensen, Lauren Allison, Greg Shilling, Kristin Barrett and Keatyn White Bear.
Directed by Calvin McCarthy and Meghann Trause
Book and lyrics by George Reinblatt.
Music by Frank Cipolla, Christopher Bond, Melissa Morris, & George Reinblatt.