From our sponsors: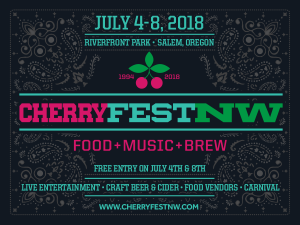 2018 Cherryfest NW
July 4-8, 2018
Free Wednesday & Sunday
$5 Thursday
$9 Friday & Saturday
All Ages
More info: cherryfestnw.com
Salem Riverfront Park
200 Water St NE, Salem, OR U
Salem is in for an exciting change. The Bite & Brew of Salem, an annual summertime event, is taking on a new name and brand that is family-friendly and celebrates the history and future of the city in a new way. Together, with the Salem Area Chamber of Commerce, today marks the unveiling and presentation of the new brand identity for The Bite & Brew of Salem: Cherryfest NW.
Cherryfest NW fills a need for unity and excitement in downtown Salem that will attract guests from all of Oregon. Cherryfest NW will retain many of the same activities of The Bite & Brew of Salem, such as live music, 80+ microbrews and ciders, a variety of food vendors, a carnival, and a Kid Zone that guests have come to enjoy and expect.
Cherryfest NW will take place from July 4-8 at Riverfront Park with free admission on the Fourth of July, as well as on Sunday, July 8th. As previously announced, Cherryfest NW will be hosting the Fourth of July fireworks this year in conjunction with the City of Salem.
Cherryfest NW is a name that is rooted in history. Known as the Cherry City since 1947, Salem had hosted the Cherry Festival, a three-day event with games and contests on Court Street where cherry princesses were crowned. Unruh is exploring bringing back the best of the community's oldest traditions, including the crowning of princesses and a parade.
There will be exciting new events as well. For example, in partnership with Titanium Racing, the Salem Stars and Stripes Run will include a 5k run with military-style challenges and a ½ mile run for kids 12 and under that will finish at Cherryfest NW. Also on the Fourth of July, crowd favorite, Scott Tom will emcee and host family-friendly games such as hula hoop contests, a water balloon toss, limbo contests, and much more.
There will be a free cornhole competition with the American Cornhole Organization on July 6 with the inaugural NW Cornhole Classic taking place on July 7. Cherryfest NW will also be hosting Greeters, a Salem Chamber event, the morning of July 6.
Take advantage of the warm weather and bring your family, blankets and lawn chairs for a relaxing day in the park and enjoy listening to unforgettable musical performances by some of the northwest's best talent. Invite your friends down for Salem's greatest annual reunion!