From our sponsors: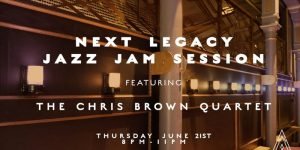 Next Legacy Jazz Jam With Chris Brown
June 21, 2018
8-11p | 21+ | $5
More info: Facebook
No Vacancy Lounge
235 Southwest 1st Avenue, Portland, OR 97204
Christopher Brown and his Quartet are bringing you the second installment off a jam session at No Vacancy Lounge. The session is looking to draw some of the top talent in jazz near and far.
A note from the host Chris Brown:
Since the inception of Jazz, the jam session has served as a linchpin for the creation of the music's culture and sound. It's the space where reputations—for better or for worse—are made, and where certain musical kinships may later blossom into full-fledged working units. In short, it's where the culture of the greater Jazz community is preserved, and its often unspoken rules are codified through practice. So whether you're a professional, a beginner, or simply a fan of live music, we encourage you to come contribute your presence to the spirit of this event.