From our sponsors: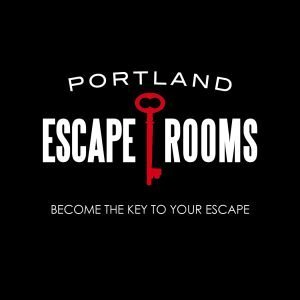 Portland Escape Rooms
Become the Key to Your Escape
More info: portlandescaperooms.com
Facebook: Portland Escape Rooms
Twitter: @PDXEscapeRooms
Become the heroes of your own story with Portland Escape Rooms! Whether you're running from zombies, escaping a kidnapper, fighting the Brits, or crushing a high score in the arcade, it's a once-in-a-lifetime experience you'll never forget.
Rooms range in difficulty, content, theme, and age-appropriateness. Be sure to check out their website to plan your perfect escape!
AMERICAN REVOLUTION (4-10 participants)
You and your friends have been charged with treason by the British Empire. They have detained you in a guarded field tent while they ready the firing squad for another Boston Massacre. An American sympathizer has left you clues to distract the guards and escape. You have 60 minutes to get out before the redcoats return! (Ages 10 and up; adult required for children under 15)
KIDNAPPED! (2-6 participants)
You have been kidnapped and locked in a room by a serial killer! The killer plans to return and do unthinkable things to you unless you can escape. You have 60 minutes to free yourselves to avoid adding to the killer's resume.
TRAPPED IN A ROOM WITH A ZOMBIE (4-10 participants)
Your team has 60 minutes to escape the room. There is 1 hungry zombie chained to the wall. Every 5 minutes a buzzer sounds and the zombie's chain gets a foot longer. Will you escape in time? Or will you be infected?! (Ages 15 and up)
ARCADE (4-10 participants)
You are trapped in an arcade where the crazy arcade owner has decided to play a game with you. A bomb with a timer is set to go off in 60 minutes unless your team can solve the puzzles to get out before it explodes. You can try for the high score, but in this game you only get one life! (Ages 8 and up; adult required for children under 15)
Madame Neptune's VOODOO CURSE (2-6 participants)
Have you ever wondered how close you are with the spirit world? Here at Madame Neptune's we bring your fortunes to life, be they good or evil! You and your friends will have 60 minutes to explore Madame Neptune's Cabin! Working together, navigating the spirit world and breaking the spell may be enough to escape… The Voodoo Curse!
STEAMPUNK AIRSHIP (4-10 participants)
Strap on your goggles and prepare for adventure as we transport you to another world of steam and gears! You and your team will become crew of the Undaunted, a famous air ship that stands against the devious Allied Industry Corps. Can you thwart the Corps. and fly the Undaunted to safety in this new adventure style escape experience, or will you fall from the sky? (Ages 12 and up; adult required for children under 15)