From our sponsors: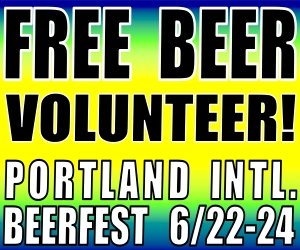 Portland International BeerFest Needs Volunteers
June 22-24, 2018
Free to volunteer | 21+
Sign up at portland-beerfest.com
North Park Blocks
235 NW Park Ave, Portland, OR 97209
Portland international Beerfest is a 3-day specialty beer festival held in the Pearl District North Park Blocks. PIB showcases hard-to-find beers and ciders from all over the world.
It needs volunteers to pull it off! Volunteers will pour everything from classic styles (pilsners, pales, etc.) to exotic new-world hybrids (barrel-aged hoppy farmhouse sours, etc.)
How it Works: You "beertend" for 3.5 hours. Pour from bottles or test your skills with draft. Our expert staff is there to help.
1ST SHIFT PAYS: PIB T-SHIRT, FEST GLASS, & 15 BEER TICKETS
2ND SHIFT PAYS: ADDITIONAL 30 BEER TICKETS (NO SHIRT/GLASS)
NOTE: YOU CAN ONLY WORK 2 SHIFTS ON THE SAME DAY
Pour for 2 shifts and get 45 beer tickets? Yep. Now live a little and go try all them high-end beers.
SUNDAY SPECIAL: 3:15 – 6:45pm
Last shift = Best deal. Work this shift and get the following (instead of beer tix):
$25 Gift Card to JOHN'S MARKET in Multnomah Village
2 primo beers to go from PIB
PIB glass & shirt