From our sponsors: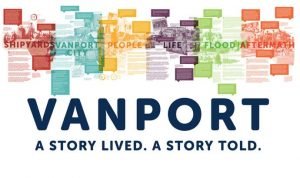 Vanport Mosaic Festival
May 28, 2017
10a-6p | Free | All Ages
More info: expocenter.org
Portland Expo Center
2060 N Marine Dr, North Portland, Oregon 97217
Presented by Vanport Mosaic with support from the Portland Expo Center and Beaumont Middle School, with special thanks to DWA Tradeshow & Exposition Services. This event will feature displays and presentations honoring our history, including the City of Vanport Flood, the Portland Assembly Center and more.
A "miracle city." A "sociological experiment." A "municipal monstrosity." A "nasty ghetto."
During its short life span (1942-1948) Vanport–Oregon's second largest city and the nation's largest public housing project–drew national attention and conflicting opinions. For the over 40,000 people who lived there, Vanport was simply their home.
When the Columbia River flooded on May 31 of 1948, Memorial Day, the entire city was erased from the map and from much of Portland's memory in a single day.
Mixing archival photographs and historical records with personal testimonies of former residents, this pop-up exhibit presents the multifaceted story of Vanport and its vibrant community. It is a story of migration, housing, displacement, and perseverance.