From our sponsors: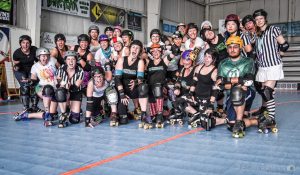 Wreckers Orientation – All skill levels! Join the fun!
May 26, 2018
3-5:30 p.m. | All Skill Level
Register at rosecityrollers.com
The Hangar at Oaks Park
SE Oaks Park Way, Portland, OR 97202
Our next Orientation is scheduled for Saturday, May 26, 3-5:30pm at the Hangar. Can't make it to this one? We have Orientations scheduled roughly every 3 months, so hopefully you can join us next time. Dates and times are subject to change. Registration is open from Saturday, March 31st through May 19th at Midnight.
New to skating and/or derby? Our Derby 101 class teaches participants the basics. We also have derby gear rental available for 101ers. Derby 101 classes are held on Sunday mornings from 8:00 – 10:00AM. The first class will be Sunday, June 3rd.
Have all your own derby gear and think you're ready to go straight into Skills & Drills practices? To bypass Derby 101, in addition to attending Orientation, you will need to attend a skills assessment scheduled Friday June 1st at 6pm. More details will be provided via email prior to Orientation. At Orientation, you will be provided with more exact information on dates and times for Skills & Drills practices. *Please note: You must attend Orientation and Assessments before you can attend a Skills & Drills class.
Skaters joining Wreckers at all skill levels (whether you plan to start with Derby 101 or test out and join Skills & Drills) must attend Orientation. Please do not bring visitors (spouses, neighbors, children, pets) to Orientation.