From our sponsors: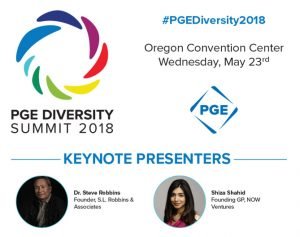 PGE's Diversity Summit 2018: Equity & the Economy
May 23, 2018
7a-6p | All Ages
More info: pgediversitysummit.com
Oregon Convention Center
777 NE Martin Luther King Jr Blvd, Portland, OR 97232
PGE's Diversity Summit 2018: Equity & the Economy is a thought-provoking conference dedicated to improving equity in the workplace.
At the Diversity Summit, more than a dozen national and local experts will share insight about various programs and initiatives that promote diversity and inclusion. There will be more than 30 workshops, and attendees in the legal and human resources professions may earn continuing educational credits.
Workshops at the summit will focus on the important role equity plays in a healthy community and growing economy. Examples include:
Affirmation and Transformation: Changing our Frame
Gender Diversity – When Women Thrive
The Great Generational Shift: How to Make the Most of Generational Diversity in the Workplace
Leading Diversity & Inclusion: What's Working and What's Not Working
You and Your Racist Brain: The Neuroscience of Prejudice
More than 1,000 attendees, including government, business and nonprofit leaders from across the Portland metropolitan area and United States are expected to come together for this conference to share ideas and build partnerships.
For more information and to register, visit: http://pgediversitysummit.com