We are giving away 3 pairs of tickets to Fastest Growing Private 100 Companies Gala @ Oregon Convention Center on May . To win, comment on this post why you'd like to attend. Winner will be drawn and emailed Monday, June 4.
———————————————
From our sponsors: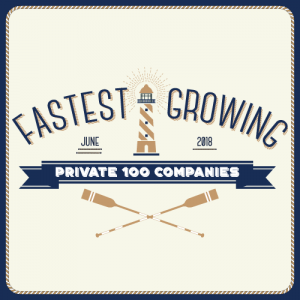 Fastest Growing Private 100 Companies Gala
June 7, 2018
All Ages | Starts at $145 | 5:30-8:30 p.m.
More info: bizjournals.com
Oregon Convention Center
777 NE Martin Luther King Jr Blvd, Portland, Oregon 97232
We've searched the 7 Seas and found our Fastest Growing Private 100 Companies in Oregon!
Jump on board for this nautical themed extravaganza as we reveal the 100 Fastest Growing Companies in Oregon and celebrate their success! We'll have tasty cocktails at the Sailors Saloon, a full dinner buffet, a little yacht rock to get boots shaking, and a dock winners will walk to accept their awards on stage as we count down the 100 fastest growing private companies.
This event draws more than 1,000 executives and is one of the greatest parties of the Portland business community. Let loose and celebrate with us! Meet the executives of each of these 100 companies, enjoy a few beverages and walk away with new contacts and inspiration to continue growth in your company! Be sure to find your greatest nautical attire and dress up for this one. Will you be a sailor? The captain? A cruise director? Or maybe a pirate? Get to thinking and don't wait on this one, this event sells out every year, register your team promptly!
Don't miss the boat on June 7th at the Oregon Convention Center this ones going to be "yachts" of fun! Trust us, the puns and fun don't stop here.
The Top 100 Fastest Growing Private Companies of 2018
24/7 Properties
3J Consulting Inc.
503 Motoring
A.wordsmith
ACS Professional Staffing
Adpearance
Archibald Relocation & Real Estate Services
BahFed Corp.
Bamboo Sushi
Brandlive
Bremik Construction
Brew Dr. Kombucha
Brewery Branding Co.
Carrot
Cart Logic Inc.
CedarBridge Group LLC
Century 21 Turner Properties
Certified Languages International LLC
Convergence Architecture
Cook Security Group
CrowdStreet
CTL
Cura Cannabis Solutions
Custom Contract Manufacturing LLC
Dealer Spike
Dealership Performance CRM LLC
DevelopmentNow Inc.
DiscoverOrg
Dutch Bros. Coffee
Edge Development
eROI
Evo Inc.
EXPAND
Fuel Medical Group
Fully
Future State Consulting
Good Feet
Garden Bar
GRAYBOX
Green Drop Garage
Hubb
Inavero
Inflow Communications Inc.
InterWorks LLC
Intuitive Digital
Johnson Project Solutions Inc.
Joseph Hughes Construction
Lawrence PR
LCG Pence Construction
Lexicon Solutions
Living Room Realty
Logical Position
Mad Fish Digital
Market Contractors
Marmoset
Meredith Lodging LLC
MiaDonna & Company
Murraysmith Inc.
Netropole Inc.
Netrush
New Credit America
NFN Investments LLC
NW Imaging Analysts LLC
Obility
Opus Agency
Opus Interactive Inc.
Owen Jones and Partners
Pacific Energy Concepts
PacStar
Perlo Construction
Premiere Property Group LLC
ProFocus
Propeller
R2C Group
Reyes Engineering Inc.
Reynolds Defense Firm
Rigado Inc.
Rising Sun Farms Inc.
Riverside Payments
Royal Vending
Ruby Receptionists Inc.
Scribe-X Northwest LLC
Securus Contact Systems
Sherpa Design Inc.
Skin by Lovely
Sleep Sound Property Management Inc.
SleepDirect.com
Smarsh
Sock It to Me
Sockeye
Swickard Auto Group
Tender Loving Empire
TerraFirma Foundation Systems
The Partners Group
ThinkShout Inc.
Timbercon Inc.
Trupp HR Inc.
Unosquare LLC
VetSource
Zapproved