From our sponsors: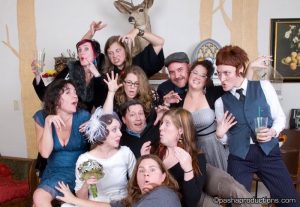 Shanrock's Triviology Pantapalooza: A Trivial Fundraiser For Pants!
April 29, 2018
5-8 p.m. | All money raised goes to Amanda Sue Pants: Dragon Slayer GoFundMe
$5 – $20 sliding scale; an anonymous donor will match each ticket sold
More info: shanrockstrivia.com
Spare Room
4830 NE 42nd, Portland
There will be prizes for at least a couple of teams, including…
This pub quiz is a celebration of "Pants," an Old Portland figure who is sort of like a punk Mary Poppins. She is a beloved teacher and woman about town who recently had emergency open heart surgery, and we're going to raise some money for her while asking you questions about a few of her favorite things: Harry Potter, Game of Thrones, Jane Austen, brunch, pugs, Downton Abbey, Princess Bride, Tudor history, Duran Duran, Labyrinth, Old Portland, Coal Miner's Daughter, beer and booze, the human heart, and all things Disney! Aren't you lucky that Pants has such great taste?!