From our sponsors: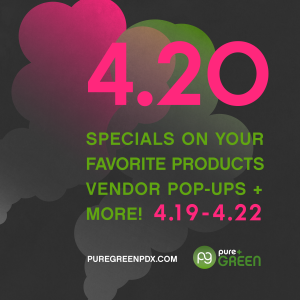 4 Days of 4.20
April 19-22, 2018
21+
More info: puregreenpdx.com
Pure Green
3738 NE Sandy Blvd., Portland, OR
Join us 4.19-4.22 for our annual 4.20 celebration!! We will have huge discounts on all of your favorite products as well as 4 grams for $20 from Ten Four Farms and Core Gardens on 4.20! We will also have various vendor pop-ups throughout the weekend. We look forward to celebrating with you!
Thurs 4/19
Fri 4/20
4 grams for $20* from Ten Four and Core Gardens (*pre-tax price)
20% off the entire store
Vendor pop-ups with Ten Four Farms and Farmer's Friend Extracts 2pm-6pm
Sat 4/21
Sun 4/22
Sustainable Sunday! In celebration of Earth Day we will be doing a vendor pop-up w Core Gardens from 12pm-3pm and Phyre Gardens 3pm-6pm
20% off Phyre and Core Flower