From our sponsors: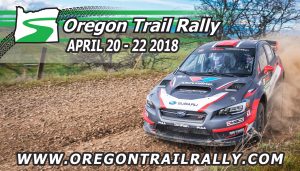 The Oregon Trail Rally
April 20, 2018
Gates open at 4p | All Ages
Adult (13+): $10 online pre sale – $12 at the gate
Kids 6-12: $5 online pre sale – $6 at the gate
Kids under 6: FREE
More info: oregontrailrally.com
Tickets: impactflow.com
Portland International Raceway
1940 N Victory Blvd, Portland, OR 97217
The Oregon Trail Rally is Round 1 of the 2018 American Rally Association Championship Series. The Oregon Trail Rally is a three day rally car race – and a huge adventure- that takes place near Portland, Oregon, in April of 2018.
Fans are treated to street-legal race cars racing, jumping, and sliding against the clock over a series of timed stages to see who can do it the fastest. The action starts at Portland International Raceway where fans can get up close and personal with the cars and rally teams.
After that, the racing moves to the farming and logging roads of the Columbia River Gorge – near the towns of Dufur, OR, and Goldendale, WA. Rally is different because the drivers are going as fast as possible over unfamiliar territory with a navigator on board to guide them. The action inside the car is intense, and the images of near-street cars sliding around corners and flying over jumps is unforgettable.
The best place to catch the action is at Portland International Raceway on April 20th. The event start with a parc expose (car show) at 6pm and then racing begins at 7pm.