From our sponsors: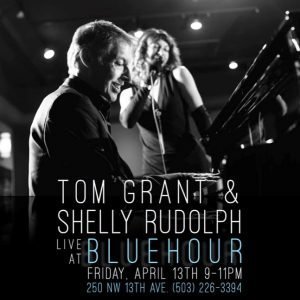 Tom Grant and Shelly Rudolph
April 13-14, 2018
9-11 p | FREE | 21+
More info Friday: Facebook
More info Saturday: Facebook
Reservations: bluehouronline.com/reservations
Bluehour
250 NW 13th Ave, Portland, OR 97209
Great food and evocative music thrill your senses, at Bluehour this weekend.
Bluehour is your favorite weekend-night-out destination because of the friendly, professional service, the dramatic dining room, and the delicious food, …but on Friday and Saturday nights, starting at 9:00 pm we add another kick to your senses, with warming, evocative live jazz music.
On Friday this week, we present two of Oregon's most renowned performers: Shelly Rudolphand Tom Grant, from 9:00 pm.
On Saturday, we host the great genre-bending, soul jazz keyboardist and composer Galen Clark.
Reservations recommended. www.bluehouronline.com/reservations