We are giving away a pair of tickets to The Zapp+The Dazz Band @ The Roseland Theater on April 21. To win, comment on this post why you'd like to attend. Winner will be drawn and emailed Friday, April 20.
———————————————
From our sponsors: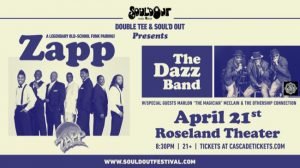 Soul'd Out Music Festival Presents
The Zapp+The Dazz Band
April 21, 2018
Show 8:30 p.m. | $31.50-$46.50 | 21+
More info: event.etix.com | Facebook
Roseland Theater
8 Northwest 6th Avenue, Portland, OR
Don't miss out on this night of Funk History!
The Zapp Band
Made up of masterful musicians who have been getting down together since the late 1970s, the group's sizzling chemistry can be attributed to the fact that it has always been a joyful family affair. The Zapp band started with Lil Roger and Lil Lester in 1962, which became Lil Roger and the Vels, grew into Roger and the Human Body from 1974-1978, then became a full-fledged movement as Zapp. Now bandleader Lester Troutman, Sr. (drums), Terry "Zapp" Troutman (talkbox/keyboards/bass), Bart Thomas (talkbox/vocals/keyboards/bass), Dale DeGroat (musical direction/keyboards/vocals), Thomas Troutman (keyboards/vocals), Riccardo Bray (guitar) and Anthony Arrington (sax) join to carry on the legacy of a tight-knit group of expert players and funk, soul and party band pioneers. Vibrating with moog bass, electrifying guitar riffs and fresh, clever lyrics, the tight-knit group's songs demonstrate a wicked sense of humor and an unmatched ability to tell colorful stories and write solid, memorable hooks. Zapp members' layered recordings and boisterous, Las Vegas-style live shows have always established them as trailblazers in both songwriting and showmanship. In the tradition of stylish masters such as James Brown, George Clinton, Stevie Wonder and Sly Stone, Zapp continues to both inspire and draw inspiration from hot acts like Daft Punk, The Black Eyed Peas and Justin Timberlake.
Over the course of the past 30 years, Zapp's and Roger's music has been sampled hundreds of times by artists around the globe, which has kept the band's buzz going strong. Zapp's music has had a profound effect on west coast hip-hop, featured in songs by Jay Z, Lil' Kim, Snoop Dogg, Xzibit, Ice Cube and many others. In 1995, Roger collaborated with 2Pac and Dr. Dre on the smash hit "California Love." It became 2Pac's best-known song and his most successful, reaching #1 on the Billboard Hot 100 and nominated for a posthumous Grammy Award as Best Rap Performance by a Duo or Group (with Roger and Dr. Dre) in 1997.
Zapp has played in small clubs, venues and huge stadiums alongside massive legends such as Rick James, Cameo, The Time, Prince and mentor George Clinton. Though Roger sadly passed away in 1999, the thrilling Zapp legacy lives on, fueled by his original creative spirit, with the hard-working, fearless current lineup still cooking up crafty new material and playing to throngs of jumping fans.
The Dazz Band
Robert "Bobby" Harris, leader and founder of the Grammy Award Winning Dazz Band, formerly "Kinsman Dazz" was born in Cleveland, Ohio. Bobby started playing saxophone with his father Robert Harris, in jazz clubs in the 1960's when he was 16 years old. Bobby played with many jazz greats including Roy Ayers, Freddie Hubbard and Richard "Groove" Holmes. As a songwriter, Bobby Harris has published countless song titles in his career which can be found on the two Kinsman Dazz albums and ALL fourteen Dazz Band albums including: Invitation to Love, Let the Music Play, Keep It Live, On the One For Fun, Jukebox, Hot Spot, Wild and Free, Time Traveler, Funkology, Here We Go Again, Rock the Room, Under The Streetlights, Motown Legends, and The 20th Century Millennium. In 1982, The Dazz Band won a Grammy Award for Best Performance by a Group or Duo for "Let It Whip" written and produced by Reggie Andrews who also produced The Dazz Band hits including: "Swoop", "Joystick", "Heartbeat", "Hot Spot", "Party Right Here", and "Let It All Blow", their biggest UK single. The Dazz Band performed their hits on popular television shows such as Soul Train, Solid Gold and American Bandstand. Their Grammy Award Winning hit single "Let It Whip" stood the test of time, and remains in recurring rotation on radio and Sirus XM Radio today. Artists continue to sample many of the Dazz Bands hits today…