From our sponsors: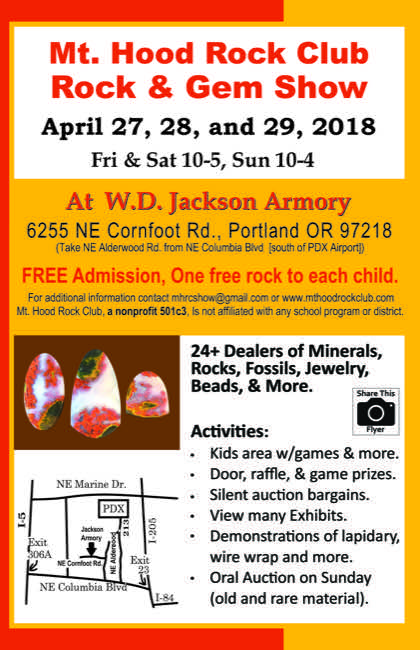 Mt. Hood Rock Club 2018 Rock & Gem Show
April 27-29, 2018
FREE | All Ages
More info: mthoodrockclub.wordpress.com
W.D. Jackson Armory
6255 NE Cornfood Rd., Portalnd, OR 97218
Last year's MHRC Show was a big success and our volunteers always help make that happen.
This coming year, our show will be on April 27-29, 2018 at W.D. Jackson Amory 6255 NE Cornfoot Rd. Portland, OR 97218 (south of the PDX airport off of NE Alderwood Rd.). Admission is free.
We host over 24 vendors and many activities:
Door and Raffle Prizes
Kids Corner with Games & Prizes
Lapidary & Wire Wrapping Demonstrations
Silent Auction Bargains all day and every day
Over 30 Exhibits (display cases of minerals, rocks, jewelry, etc.)
Oral Auction on Sunday with old stock material