From our sponsors: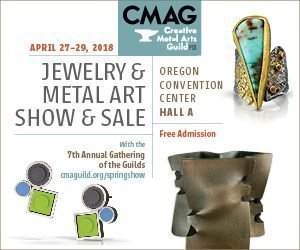 Jewelry And Metal Arts Show
April 27-29, 2018
FREE | All Ages
Friday: 10a-7p
Saturday: 10a-6p
Sunday: 10a-4p
More info: cmaguild.org
Oregon Convention Center
777 NE Martin Luther King Jr Blvd, Portland, Oregon 97232
Every year, Portlanders have the opportunity to purchase the work of some of the Pacific Northwest's finest jewelry designers and metal artists at CMAG's annual Jewelry and Metal Arts Show. The show is held as part of The Gathering of the Guilds at the Oregon Convention Center and will feature work in a wide range of metals including gold, platinum, silver, copper, brass, steel, and bronze, with additional elements done with gemstones, enamel, and glass. All artwork is handmade by the individual artist and is either one of a kind or in limited production.