From our sponsors: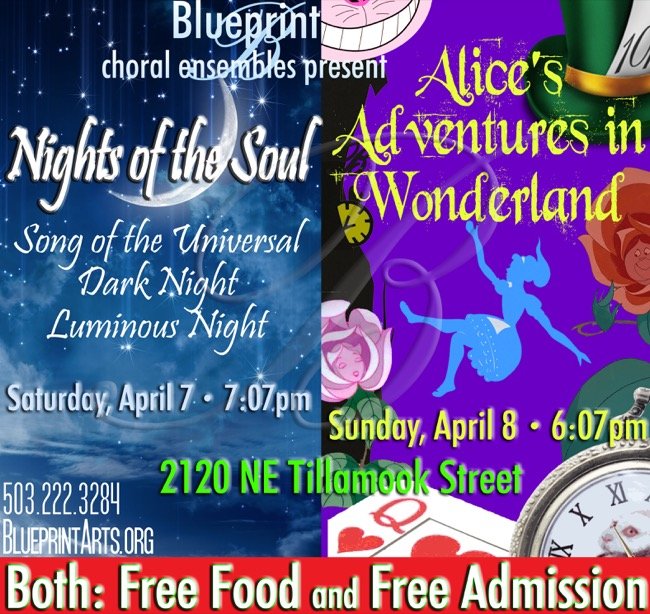 Double Feature Weekend w/ Blueprint Choral Ensemble
April 7 & 8, 2018
Saturday 7:07 p.m.
Sunday 6:07 p.m.
FREE Food & FREE Admission | All Ages
More info: blueprintarts.org
Blueprint Choral Ensemble Concerts
2120 NE Tillamook Street, Portland, OR
Blueprint Ensemble Arts and Theatre Initiative (BEATI) is a Portland-based performing arts and choral organization with numerous ensembles under its banner, each rooted in a philosophy focused on harmonic fusion, musical versatility, and ensemble unity. Each group within the organization strives to inspire, enrich, and educate through the outstanding study and performance of choral and other works.
Nights of the Soul (Gjeilo Masterworks) – April 7 @ 7:07 p.m.
Three Gjeilo masterpieces (and more!) all in the same evening!
Join ensembles Chartreuse, Emerald, and Orange, with Silver, as they bring you pieces about the soul, before closing the evening with three magnificent Gjeilo pieces!
Included? How about…
Persichetti's Clear Midnight
Haydn's Gloria
Whitacre's Lux Aurumque
Nat King Cole's (I Love You) for Sentimental Reasons
And, of course, with Gjeilo's…
Song of the Universal
Dark Night of the Soul
Luminous Night of the Soul
And much more!
So come with us and take a trip through, well… the soul!
Alice's Adventures in Wonderland – April 8 @ 6:07 p.m.
Come take a trip down the rabbit hole as Blueprint takes you on a musical journey through Alice's Adventures in Wonderland!
Whether it's chasing that pesky rabbit or talking to flowers or hangin' with the Mad Hatter and March Hare, we have the soundtrack for your trip to Wonderland.
Included? How about:
The Beatles' Yesterday
Rutter's Magical Kingdom
Mozart's amazing Lacrymosa
Bononcini's Per La Gloria
And how about the tremendous…
Winner Takes It All
And much, much more!
So grab your running shoes (because you gotta catch that rabbit) and come join us in a Wonderland of musical fun!