We are giving you another chance to win a pair of tickets to Experience Theatre Project presents Agatha Christie's The Mousetrap on March 23. To win, comment on this post why you'd like to attend. Winner will be drawn and emailed Monday, March 19.
———————————————
From our sponsors: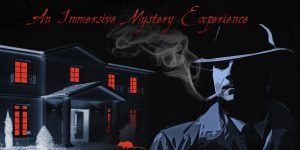 Experience Theatre Project presents
Agatha Christie's The Mousetrap
February 16-March 25, 2018
Thursdays-Saturdays at 7:30pm, Sundays at 2pm
All Ages – 15+
More info: experiencetheatreproject.org
The Cady Building
12604 SW Farmington Rd, Beaverton, OR 97005
Experience Theatre Project, Beaverton's resident professional theatre company, proudly presents a fully immersive production of Agatha Christie's The Mousetrap at the Cady Building in historic downtown Beaverton, located at 12604 SW Farmington Road. The play opens February 16 and runs Thursdays through Saturdays at 7:30 and Sundays at 2pm, until March 25. Tickets $30-$52 available January 15 for purchase at ETP's website at www.experiencetheatreproject.org. Due to the intimate nature of this immersive show, only 35 tickets will be available per show. Those interested in attending are encouraged to purchase their tickets early as we will sell out.
The longest running play in history gets an amazing twist by ETP's founding Artistic Director Alisa Stewart by immersing the audience within the setting of the play. Audience members become visitors of Monkswell Manor House, sitting only inches from the action in the Great Hall of the old manor. The Cady Building is Experience Theatre Project's first indoor immersive production, and Stewart could not be more excited about moving from the noisy, outdoor Beaverton Round to an indoor space.
"I love Agatha Christie," says Stewart. "And since the entire play takes place inside an old manor house, placing the audience in the house itself allows people to watch the show with an entirely new perspective. Unlike a traditional proscenium theater, there are no rows of seats or a stage to view. Audiences will experience a murder and the ensuing investigation inches away from their seats, which have been scattered about the Great Hall. Imagine feeling the intensity of really talented actors performing immediately next you, feeling the tension of the moment right along with them. Couple that with Christie's amazing mystery storytelling, and you've got a great recipe for a truly unique experience."
The Mousetrap features Carlyn Blount as Mollie Ralston, Nick D'ellatori as Giles Ralston, Murren Kennedy as Chrisopher Wren, Amber Bogdewiecz as Miss Casewell, Brian Reed as Mr. Paravicini, Steve Garrison as Major Metcalf, Janice Moss as Mrs. Boyle, and James Luster as Detective Trotter. Seattle Immersive Theatre's Amy Baldwin is both costume designer and "immersion adviser" for the production.