We are giving away a pair of tickets to The Brian Jonestown Massacre @ Crystal Ballroom on May 22. To win, comment on this post why you'd like to attend. Winner will be drawn and emailed Friday, March 30.
———————————————
From our sponsors: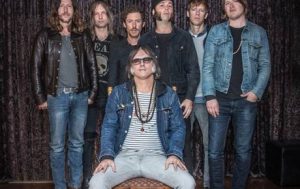 The Brian Jonestown Massacre
w/ Cat Hoch
May 22, 2018
All Ages | Doors 7 p.m., Show 8 p.m. | $22 advance, $25 day of show
More info: crystalballroompdx.com
Crystal Ballroom
1332 W Burnside St Portland, OR 97209
Named in tribute to the legendary Rolling Stones guitarist and his influence in introducing Eastern culture and music into the world of Western rock & roll, the Brian Jonestown Massacre formed in San Francisco, CA, in 1990. Some 40 different members passed through the group's ranks over the next half-decade, but their focal point always remained singer/guitarist Anton Newcombe, who along with bassist Matt Hollywood, guitarist Dean Taylor, organist Mara Regal, accordionist Dawn Thomas, drummer Brian Glaze, and "Spokesperson for the Revolution" Joel Gion, recorded the Massacre's 1995 shoegazer-influenced debut LP, 'Methodrone.' A collection of early recordings, 'Spacegirl and Other Favorites,' followed on the band's own Tangible label in early 1996, and was the first of four Brian Jonestown Massacre LPs to appear that year. Next up was the brilliant, 'Their Satanic Majesties' Second Request,' a full-blown homage to the Stones' glorious psychedelic-era excesses. Recorded live in the studio, the grittier 'Take It from the Man!' found the band exploring even broader territory. Finally, the year ended with the release of 'Thank God for Mental Illness,' a showcase for strong country and blues leanings.
In 1997, the BJM — now consisting of Newcombe, Hollywood, Gion, Taylor, Peter Hayes and drummer Brad Artley — resurfaced with 'Give It Back!' After signing to TVT, they released 'Strung Out in Heaven' the following year, but the band's own eccentricities kept them from staying on the label. After a few scattered EPs, they resurfaced in 2001 with 'Bravery, Repetition and Noise,' distributed by Bomp. 'And This Is Our Music' followed in 2003. Despite a continued lack of major distribution, the Brian Jonestown Massacre earned the largest profile of their career in 2004, when the band became the unlikely focus of an award-winning documentary, 'DIG!,' which charted the trials of Newcombe and those of his rival, Courtney Taylor, leader of the Dandy Warhols. The 'We Are the Radio' EP followed in August 2005.
Three years later, Anton Newcombe reinvented the band as he had obtained all the releases of his past albums & formed his own label, 'a' Recordings. His first new album on this label was 'My Bloody Underground,' featuring yet another lineup and a hint of shoegaze and noise pop. 'Who Killed Sgt Pepper?' followed shortly after, being made available in streaming format at the end of 2009 and receiving an official release on February 27th, 2010.
The band have toured throughout the years Australasia , Japan , North America & Europe. In 2010 they finished a 16-week world tour which ended in June 2010.