From our sponsors: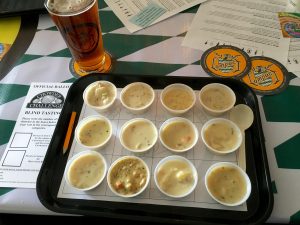 Chowder Challenge
March 3, 2018
All Ages | Noon – 3 p.m.
Sample try w/ 12 Chowders $15; or $20 for a tray and a Lompoc Pint
More info: Facebook
Lompoc Brewing
3901 N Williams Ave., Portland, OR 97227
It's back! Following a one year hiatus, the beloved Chowder Challenge is returning. This year's event, our 11th, will take place on Saturday, March 3 from Noon to 3pm (or until chowders run out) in the tented & heated parking lot of Fifth Quadrant, as well as inside the brewery, Fifth Quadrant restaurant, and Sidebar Tasting Room. The Chowder Challenge features a blind tasting of a dozen samples of clam chowders by area restaurants and brewpubs. Attendees vote for their favorite, and the chowder receiving the most votes is named the People's Choice Winner.
This year's challengers include Burnside Brewing Co, EaT: An Oyster Bar, Ecliptic Brewing, Farmhouse Cafe, Ground Breaker Brewing, Lompoc Beer 5th Quadrant, PINTS Brewing Company, The Riverhouse Nestucca, Produce Row Cafe, Renner's Grill/The Hawthorne Hideaway, Saraveza and Wayfinder Beer.
A sample tray of all 12 chowders costs $15; or $20 for a tray and a Lompoc Pint; all tickets are sold at the door. The event also features music, a beer garden, a raffle with prizes from the participants, and pub food for purchase. Minors are welcome at the family friendly event. 100% of net proceeds are given to the Community Transitional Schooll for homeless children in the Portland area.