From our sponsors: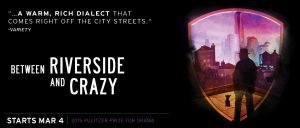 Between Riverside and Crazy
March 4-April 1, 2018
$25-$50 | All Ages
Tickets: artistsrep.org
Alder Stage
1515 SW Morrison St., Portland. OR 97205
Retired cop and recent widower Walter "Pops" Washington slings back whiskey while his newly paroled son and friends wander in and out of his longtime apartment on Riverside Drive. The dog is a nuisance, the landlord wants him gone, and the NYPD is demanding a settlement on an outstanding lawsuit. After an enlightening encounter, Pops decides to take things in his own hands with a final ultimatum, while everyone else hustles to get what they think they deserve.
"Somewhere south of cozy and north of dangerous, west of sitcom and due east of tragedy." -Ben Brantley, The New York Times
2015 Pulitzer Prize for Drama
2015 New York Drama Critics Circle Award for Best Play
From the writer of The Motherfucker with the Hat