From our sponsors: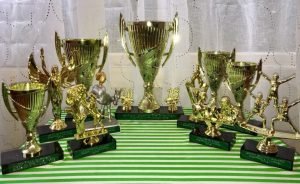 Clash Of The Trivia Titans Trivia Tournament
February 25, 2018
$6 per person to play; 5 player max per team
5 p.m. Registration Opens | PRIZES for everyone (but BIGGER prizes for winners!)
More info: shanrockstrivia.com
Spare Room
4830 NE 42nd, Portland
Awards season is here, so it is almost time for the Oscars of pub quizzery: The Clash of the Trivia Titans!
Everybody is invited to play in this tournament which pits trivia mavens from all Triviology venues against one another. Everyone gets small prizes just for showing up to play, and there are lots of engraved trophies and big prizes up for grabs, too! Anybody can participate in the Olympian Open, a pub quiz which challenges your knowledge of both pop culture and book learnin'.
The winners of this competition not only get a trophy and prizes, but become the wild card seed that will compete in the Titan Invitational! There, the Olympian champs will compete against seasoned "Titan" teams, who have won several quizzes over the Triviology season. Come grab your glory!
5:00 Registration
5:30 Olympian Open Quiz!
7:30 First set of trophies & prizes awarded!
8:00 Titan Invitational Quiz!
10:00 Final trophies & prizes awarded!