From our sponsors: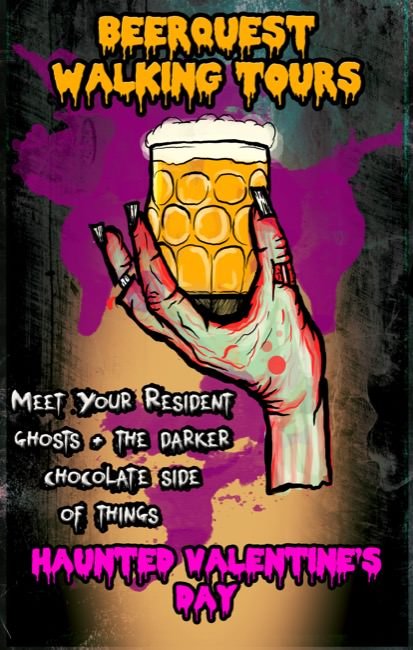 HAUNTED VALENTINE'S DAY PUB TOUR
February 14 – February 17, 2018
Special Event Dates & Times | $49 + Small Booking Fee | 21+
Book Now @ ​BeerQuest Walking Tours
Add a little more zest to Valentine's Day this year! Explore Portland's ​darker (chocolate)​ side and celebrate with ​the resident ghosts of Portland, Oregon​.
The Old Town Historic District, a favorite nightlife area today, was once the scene of a less savory and lawless past 100 years ago. Its cobblestone streets and historic pubs are the perfect stage for ​BeerQuest Walking Tours' 2.5-hour Haunted Valentine's Day Pub Tour.
BeerQuest Walking Tours​ takes you into two historic Portland pubs for beer tastings, ghost stories and chocolate. Your expert tour guide will bring Portland to life through stories about the "wild days" when the city was overrun with saloons, brothels, and an underground world. By tours end, you'll go underground into the notorious Shanghai Tunnels and learn about the notorious "crimps" who kidnapped unsuspecting and hear chilling stories of first-hand accounts of recent paranormal encounters. These spooky stories are only moderately scary, but they might spook your valentine right into your arms!
This special guided Valentine's Day tour includes all the beer and fear of our year-round haunted walk plus ​a very special local chocolatey dessert.
Enjoy 7 craft beer samples (5 oz pours) per person.​ Samples include award-winning local brews from Kells Irish Brewing and Old Town Brewing. Featured pubs include Kells Irish Restaurant & Pub and Old Town Pizza & Brewing.
Tickets are $49 per person with a small online booking fee. All guests must be 21+. Celebrate the love this year with your sweetie, family, or friends. ​Book your tour in advance now at BeerQuestPDX.com/Valentines-Day​.