From our sponsors: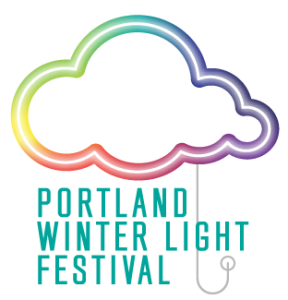 Portland Winter Light Festival
February 1-3, 2018
All Ages | FREE
More info: pdxwlf.com
More than 100 illuminated installations, artists, performers and events will brighten the Portland cityscape this February during the 2018 Portland Winter Light Festival presented by Portland General Electric (PGE) and powered by PGE renewable energy. This free, all-ages festival will once again capture the city's imagination as it expands to its largest footprint yet, featuring illuminated art installations, live performances, and interactive activities designed to unite the community during the darkest time of the year.
Drawing interest and recognition from across the region, the expanded 2018 artist roster showcases talent almost exclusively from the Pacific Northwest. In just its third year, the festival has already established itself as a regional attraction for artists and visitors due to the dazzling and unique installations and family friendly atmosphere. The Portland Winter Light Festival is hosted by OMSI and the Portland Spirit as an activity of the Willamette Light Brigade.
Growing beyond the festival's original central footprint at OMSI, this year the over 100 artists, performers, and creators will have work presented at four creative art hubs throughout the entire city.
Highlighted new offerings for 2018:
Significant expansion to sites throughout Portland, including dedicated festival hubs at OMSI, PGE Headquarters/World Trade Center (downtown), the North Park Blocks including PNCA, and Cathedral Park (St. Johns)
Artworks such as Tyler FuQua's Cosmic Space Worm (30-foot-long segmented aluminum worm built on 5 adult tricycles), Tron Pong blacklight ping-pong by James "JT" Thompson, and Light Gardening/A Robot at Play by Richard Miner (a large robot tending a fiber-optic garden)
Stories Around the Fire, presented by former Live Wire host Courtenay Hameister around a fire sculpture
Light Showcase performing arts programming at the World Trade Center Plaza featuring BodyVox dance company and others
Tesla coil demonstrations at the Oregon Rail Heritage Center
"The Portland Winter Light Festival has already become a favorite wintertime destination for the Portland community," Chris Herring, Artistic Director of Portland Winter Light Festival said. "Nothing showcases that more than our ability to bring in artists and performers from around the region and expand the footprint of this year's festival to neighborhoods well beyond anything we've been able to do before."
Popular festival events returning in 2018:
Artworks such as Flamethrower Chandelier by Ryan Ramage, and a 50-foot-tall steel dragon that shoots flames titled Homage to Trogdor by Ivan McLean
Complimentary rides on the Portland Spirit and Sternwheeler, with performances by the Portland Opera and others
Light Science Talks educational series
Silent Disco headphones dance party
The festival takes place over three nights at several event "Hubs" around Portland:

Hub A = SE Portland. OMSI, Oregon Rail Heritage Center, Portland Spirit Dock, and more

Hub B = SW Portland. World Trade Center/PGE Headquarters, Salmon Springs Fountain

Hub C = NW Portland. North Park Blocks including PNCA

Hub D = North/NE Portland. Cathedral Park Place, St Johns, Rose Quarter, Convention Center, more

Events include a lantern parade, multiple Tesla Coil performances, silent disco, science talks, illuminated bike ride, and more.

For a detailed list of all 100+ installations, performances, and events, visit http://www.pdxwlf.com/