From our sponsors: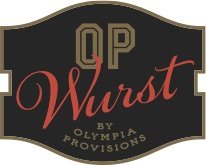 Watch 2018 Blazers
More info: opwurst.com
OP Wurst
3384 SE Division St, Portland, OR
(503) 384-2259
There's no better way to cheer on the Blazer's than with a drink and a dog! Come join us at OP Wurst and show your Portland Pride. We play every Blazer game on our projector screen and offer game-day specials!
Part homage to the authentic American hot dog of yore, part no-holds-barred frankfurter test kitchen, OP Wurst is helmed by longtime Olympia Provisions frankfurter mastermind, Victor Deras, who has created a vast a varied menu of signature franks designed to satisfy every possible craving—from a pastrami-pile Reuben Dog to a gravy-drenched Poutine Dog. But he doesn't stop there, the menu features a classic Italian Grinder Sandwich, a burger and so much more.
Our bar features 12 rotating taps from local breweries as well a great wine selection and delicious cocktails. Whether you are just coming for a drink or a meal with friends, we've got you covered.
Game Day Specials: Rip City Ripper $6, Cocktail and Beer specials, Glass of Rose $5, Get a free basket of fries with any purchase of a premium pitcher of beer.