From our sponsors: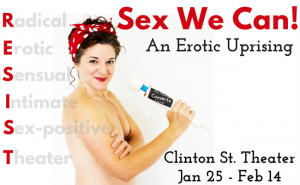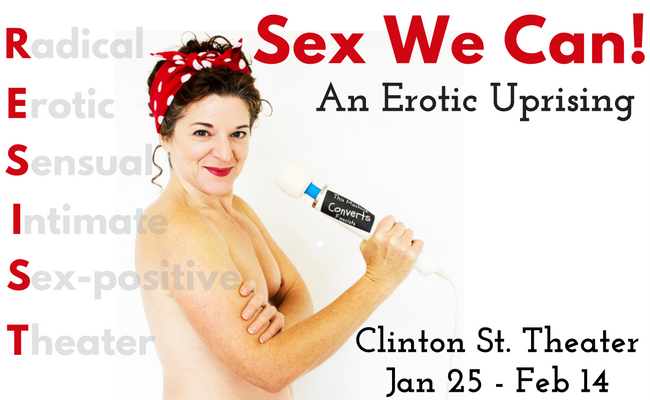 Sex We Can! An Erotic Uprising
January 25-27, February 1-2, 9-10, 14, 2018
8 p.m | $15-30 | 21+
More info: dancenakedproductions.com
Clinton Street Theater
2522 SE Clinton St., Portland, OR
Come together for Sex We Can!
Calling all comrades of the sexual revolution – Imagine an erotic, empowered and inclusive state of the union.
Sex is in the news a lot lately, and most of the news ain't good…sexual assault, abuse, misconduct— sex as a source of trauma, a weapon of power. What if that's not really sex? What if we redefine sex to mean a source of connection, a means of communication? Sex as medicine?
"Sexually awakened women, affirmed and recognized as such, would mean the complete collapse of the authoritarian ideology". – Wilhelm Reich
Dance Naked Productions is proud to present Sex We Can! An Erotic Uprising, which opens January 25th at the Clinton Street Theater in Portland, Oregon, premiering as part of the Fertile Ground Festival of New Works. Directed by four-time Fertile Ground alum Eleanor O'Brien (whose past hits include Inviting Desire, Lust & Marriage, What is Erotic? and Revelations), Sex We Can! seeks to unite and incite a sex-positive revolution. Never one to shy away from controversy, O'Brien invites all comers to co-create a cultural shift:
"I believe pleasure is a basic human right. I make theater to envision a potential path out of the morass we find ourselves in. I invite others to do the same. As artists, we seek not only to address the shadows in our culture, but to envision a new paradigm. A time when #metoo refers to orgasms, not a history of abuse, and sexuality is celebrated regardless of race, gender, size, aging, sexual or political orientation. Learning to set boundaries, teaching respect and creating a culture of consent is the change we seek, where communication is the lubricant of choice. Together we have created a multi-faceted performance that offers a map of inspiration from numerous sexual perspectives, and hope for a more compassionate, interconnected world."