From our sponsors: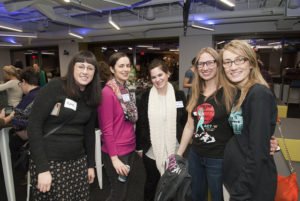 Happy Hour Networking Event
January 23, 2018
4:30-6:30 p.m. | Free | All Ages
More info: eventbrite.com
SurveyMonkey
111 Southwest 5th Avenue, #1600, Portland, OR 97204
Join us for happy hour at SurveyMonkey on January 23rd.
People often talk about creating a work culture that allows people to "bring their best self to work." To start the conversation, we are asking "what is an important personal value you bring to work?" with an aim to allow us to explore who our best selves.
While the event is primarily intended for networking, we will have a short segment at 5:30 to share important announcements and showcase three women in our community.
Introduction to SurveyMonkey, including what they do and what job opportunities are available.
Rebecca Alexander, Co-founder and CEO of Allgo, will share details about how her early-stage startup will help people be more comfortable and confident with themselves at work.
Madonnalisa Chan, Freelance Information Architect – Taxonomist, will talk about making values-based decisions in your career.
During the event, we'll have more to do than free-form networking:
An Activity Table where people can get creative. This is a fantastic way to meet others if large groups are not your thing. If you have trouble finding it, look for Meg Aul, our Event Activities Director.
Table Topics to help break the ice.
A section for job seekers and those hiring, to ensure people get connected.
We are celebrating our 6th anniversary (yes 6 years!) with a photo booth courtesy of SnapBar